Michaels Energy is a veteran-owned energy consulting firm that exists to help businesses minimize waste and maximize value. Our energy and engineering gurus are obsessed with optimizing buildings and processes to maximize energy savings and profits, minimize utility grid stress and carbon footprints, and keep this big, beautiful planet in tip-top shape.
Our purpose, combined with our core values of proactive and responsive service, intuitive analysis, collaborative partnerships, and fanatical execution, forms the foundation of our culture.
Energy efficiency, resource preservation, and long-term cost effectiveness are an integral part of everything we do.
Since our Founding in 1984
Michaels Energy has been helping building owners, utilities, consultants and partners save energy and design high performing systems, processes and programs.
Our Primary Service Offerings
include utility program design and implementation, research and evaluation, energy studies, and custom efficiency solutions.
Our Team of Energy Fanatics
includes program managers, marketers and ridiculously qualified engineers in the fields of mechanical, chemical, electrical, architectural, and civil engineering.

Say Hello To Your Team
Get to know the Michaels Energy team – from our passion for all things energy to the name of our favorite pets! You can find us all over the United States – ready to serve our clients throughout the country (and Canada, eh).
Click here to see how we all gel and support each other.
Resource preservation has been in my blood since my days growing up on the farm, where I urged my father to reduce tillage to minimize fuel consumption and preserve topsoil. I landed in engineering and was selected by Michaels to harness that passion as a career.

About Jeff
As the youngest of four kids on a farm, Jeff started working and earning money at a young age. While in college, he worked long weeks in the summer and during winter and spring breaks. Like his current role with Michaels, there were always more things to improve and get done.
Jeff enlisted in the Navy as he finished his senior year at South Dakota State University. Upon graduation, he was commissioned as an officer and spent six weeks at officers' school in Newport, RI. He was a reactor plant fluid systems engineer for most of his stint with the Navy. He spent several weeks at shipyards observing submarines in overhaul, refueling, and under construction.
Jeff started on the ground floor with Michaels in January 1996, doing energy audits and feasibility studies. He worked his way into managing the energy efficiency practices and the entire company for the last five years. Jeff's current responsibilities as Chief Executive Officer include program, evaluation, proposal, sales strategies, and discovering the next big thing.
Jeff earned a Bachelor of Science Degree in Mechanical Engineering from South Dakota State University. In the Navy, he earned a Master's in nuclear engineering (classified). Later, he received a Master of Science Degree in Mechanical Engineering from the University of Wisconsin-Madison.
Jeff runs every day, no matter what. He finished twelve marathons, including eight in recent years, and qualified for Boston six times. He enjoys yard work, cutting and splitting firewood, and consuming news and politics, history, economics, marketing, and business management. Entertainment includes driving the beautiful western Wisconsin countryside and writing his blog, the Energy Rant.
I've always been driven to get things done efficiently. And I understand that the world we live in is not getting any larger either, as we continue to compete for energy in a growing population. When the opportunity arose to provide energy efficiency solutions for more people than just myself, it was a win-win situation for me.

About Scott
Scott joined Michaels Engineering in 1997 and began his career designing solutions for cleaning up leaking underground storage tanks, assisting industrial facilities with air pollution permitting, storm water pollution prevention and hazardous waste management. Around 2002, Scott began working in Michaels' energy division, performing energy analyses, energy audits and investment-grade energy studies. As the company grew, Scott managed the Energy Programs Engineering department, which included all work for one of Michaels' largest (and longest-term) clients. His duties included client/customer liaisons, program design and implementation, energy analysis and report review, project management, recruiting and mentoring. Late in 2012, Scott took a minority stake in the company.
As of the beginning of 2016, Scott moved into the Chief Operating Officer role for Michaels Energy, overseeing the day-to-day operations of the company, as well as human resources, accounting and information technology.
Scott earned a Bachelor of Science Degree in Civil and Environmental Engineering from the University of Wisconsin-Madison.
Beyond work at Michaels, Scott and his wife, Sarah, are busy raising their 4-year old daughter and loving (almost) every moment of it. Scott also enjoys being outdoors, working and playing on recreational land that he owns with family, removing invasive plants, maintaining hiking trails, picking morel mushrooms, hunting and fishing whenever he can. Winter brings one of Scott's favorite pastimes – snowmobiling. He is part of the local snowmobile club, and is active in fundraising and maintenance of local trails.
I enjoy showing customers that being efficient doesn't have to be difficult; outside of costly capital projects there are often many actions that an organization can take to improve efficiency with an attractive ROI. As the power industry continues to change and become more decentralized, it is even more important that we utilize the resources we have wisely, and energy efficiency is still one of the best tools in our kit.

About Bryce
Bryce started his career with Michaels in 2005 as an energy engineer, performing energy analyses, energy audits and investment-grade energy studies. In 2009, he was promoted into a leadership role managing the Energy Program Engineering department, working very closely with a major client. In 2016, Bryce moved into the role of Managing Director of Program Engineering, overseeing all of Michaels Energy's efficiency program implementation staff and work. In 2020, Bryce moved into the Director of Operations role where he provided operations oversight and leadership, budget and resource management, product development, and client satisfaction. And in 2023, Bryce was promoted to VP of Operations. Bryce is motivated to build long-term relationships with his employees and clients, and develop new client relationships and future service offerings.
Bryce earned his Bachelor of Science Degree in Mechanical Engineering, with a minor in Mathematics, from Milwaukee School of Engineering (MSOE).
Outside of work at Michaels, Bryce enjoys cooking, homebrewing, tinkering with electronics, and exploring the outdoors – camping, canoeing, snowshoeing, and biking.
Being a kid was a great outdoor adventure…my brothers and I slept more outside than in and we played in every stream, puddle, and pond within biking range. This ignited a deep appreciation for fresh air, clean water, and green space that inspires me to help clients figure out ways to conserve energy and to protect our earth. This past decade working collaboratively with clients in a consulting role as deepened my commitment to ensuring they obtain the information, research, and programs needed for their success. Together, we find the best ways forward.

About Teri
Teri has been working in the energy sector for more than a quarter of a century. While working for an awesome utility as a distribution planning engineer, her responsibilities ranged from completing distribution system fault studies to designing over-current protection schemes to managing the capital budgets (and she is pleasantly surprised at how much this experience is now again relevant with the advent of distribution integrated resource planning initiatives across the U.S.).
After earning an MBA, Teri's responsibilities shifted to figuring out how to be more customer friendly, more cost efficient, and more reliable – with energy efficiency programming becomming a key component for each of those objectives. In 2011, Teri moved into a consultant role expanding her opportunity to work with utilities across the U.S. as they design and implement energy efficiency and demand response programs – and now, as they think more deeply about how these programs combined with newer tech can change how the gird is planned and managed.
Teri joined the Michaels Energy team in 2016. As the Director of Research and Evaluation, she used her many years of experience and assorted roles in the energy sector to provide clients with a well-rounded perspective of what works, and what doesn't. As the Director of Sales and Marketing, she helped clients to identify more holistic solutions for their challenges ahead.
Teri earned a Bachelor of Science degree in Electrical Engineering from the University of Pittsburgh (PA) and a Master of Business Administration from Seton Hill University, Greensburg, PA.
Teri is crazy about her family and gets outside as much as possible – camping, hiking, snow shoeing, cross-country skiing, running, canoeing, biking…or just sitting around a fire with friends and loved ones enjoying good food, good drink, and good company.
I never thought that my career would take me into the energy efficiency space, but it was a no-brainer for me once I learned more about Michaels and what they do. In this role, I combine my passion for marketing with making a difference (for people and the planet), and I get to work with some incredible people along the way.

About Liz
Liz started her marketing career at an advertising agency, helping clients develop and run their marketing strategies and initiatives from just about every industry you can think of; finance, hospitality, manufacturing, retail, education, and everything in between. After four years, she took on a new challenge at a credit union to build and grow their marketing department. While there, she also taught marketing courses as an adjunct professor at Viterbo University and ran the credit union's non-profit foundation as its Executive Director. In her five+ years at the credit union, she fueled growth through marketing campaigns, department management, and successful integrations of five mergers and acquisitions; played an instrumental role in the creation and branding of a new credit and savings program; co-developed and marketed a financial literacy program; hired and coached the foundation's first employees; and grew the non-profit from a start-up to a million dollar foundation.
Liz joined the Michaels Energy team in 2020. As the Associate Director of Marketing, she was responsible for the development and execution of the organization's and client's marketing strategies, strengthening and maintaining Michaels' brand, and coaching/leading the marketing team. Now, as the Director of Sales and Marketing, she continues coaching and leading the Sales and Marketing team while helping clients find solutions to problems.
Liz earned a Bachelor of Business Administration degree in Marketing and Spanish from Viterbo University and a Master of Business Administration from the same university.
Liz loves the outdoors and exploring as much of this big, beautiful world as possible. Her favorite hobbies include traveling, scuba diving, hiking, paddle boarding, camping, fishing, snorkeling, and playing cribbage with a glass of bourbon.
I did not seek out a career in energy efficiency. As someone in the HR field, I just wanted to work in a professional and fun environment. I certainly found that at Michaels and it's a bonus to support energy efficiency and be able to do my part to help the environment.

About Jill
Jill Hulst has 17 years of human resources experience. Prior to her start at Michaels Energy, Jill worked in Human Resources and Safety in manufacturing facilities. She started at Michaels in 2012 as the Director of Human Resources. She is responsible for all aspects of human resources at Michaels Energy, including recruiting, benefit administration, employee training, wellness and record-keeping. She's also a member of the leadership team that sets the strategic direction at Michaels.
Jill has a Bachelor of Science degree in Business Administration with an emphasis in Human Resources and Management from UW-Platteville.
Outside of work, Jill enjoys reading with her book club and watching TV dramas. As a family, they enjoy playing and watching all kinds of sports, going for walks and have fires in their backyard.
Efficiency = maximum productivity with minimum wasted effort. I may not be an engineer, but I certainly strive towards the goal of efficiency in all that I do. Numbers excite me, but so does getting things done efficiently and timely. I never imagined finding myself surrounded by mostly engineers, but I have quickly found that I fit in pretty darn well! I have a great appreciation for crunching numbers, creative solutions, and process improvement and love being around this group who share the same drive!

About David
David joined the Michaels team in April 2019. David is responsible for financial reporting, billing, payroll, taxes, and various financial analysis and report creation. David is also involved with budgeting, project set-up, vendor payment, collections, and anything finance-related.
David earned a Bachelor of Business Administration degree in Accounting from the University of Wisconsin – Whitewater, as well as a Master of Professional Accountancy from the same University. Prior to joining Michaels, David spent three years in public accounting working as an Auditor with Baker Tilly Virchow Krause, LLP. He focused on assurance engagements for Construction, Real Estate, and Manufacturing clients along with Employee Benefit Plan audits. David is a Certified Public Accountant (CPA) in the State of Wisconsin.
Outside of work, David is a huge Bucks, Packers, and Brewers fan (or really any live sporting event). He enjoys hiking with his wife, Heather, golfing, and just about anything outdoors (even yardwork)!
I've always equated energy efficiency with protecting the natural world.

About Rebecca

Rebecca credits her enthusiasm for nature to her upbringing on a farm, and to her mom, a science teacher. Her dedication to energy efficiency started in childhood when she would hang the family's laundry out to dry in the sun. Reducing waste of all kinds became a way of life for her. Before joining Michaels, she worked as an Urban Planner and Sustainability Coordinator for the City of Syracuse. In that role, she helped advance initiatives to make the city more walkable and bikeable, reducing reliance on cars. She also managed and coordinated the City's energy efficiency projects, including transitioning the entire city street lighting system to LEDs with smart controls.
Rebecca joined the Michaels Energy team in 2021 and is responsible for managing the creation of customized proposals for our valued existing and prospective clients. She is skilled in showcasing our team's expertise, experience, and passion for all-things-energy in a way that is clear, compelling, and digestible.
Rebecca graduated from the State University of New York College of Environmental Science and Forestry with a Bachelor of Science in Environmental and Forest Biology.
Her favorite pastimes include camping with her family in the Adirondacks, hiking and snowshoeing, campfire cooking, vegetable gardening, and game nights with her nephews.
No one drives with a brick on the gas, only using their brake to control their speed because "it's easier" or "that's how I've always done it". So why do we see so many buildings operated this way? Finding and fixing these problems requires some detective work and creativity, and that's what we do best.

About Eric
Eric has been with Michaels since 2008 after he graduated with his mechanical engineering degree from the University of Wisconsin. Eric has worked in a variety of areas, including energy modeling, retro-commissioning, commissioning, controls specification, energy auditing, LEED facilitation, and program evaluation. Eric is constantly learning new things to try and bring new opportunities forward for Michaels. In 2022, he took on a brand new role as the Research & Technical Content Manager.
In his "free time", Eric claims to enjoy cross country skiing and mountain biking, but, in reality, primarily serves at the beck and call of his two awesome (but demanding) kids. He's a huge proponent of biking into work and staying active. He has led the charge to make Michaels a more bike oriented company, and helped put in a workout center in our building. You can find him biking to work even on the coldest Wisconsin mornings, or struggling to lift absurdly light weights over lunch periods.
"A rising tide lifts all boats" This proverbial saying is sometimes attributed to John F. Kennedy. He did indeed use it in a 1963 speech, but it was around prior to that. Most commonly used in reference to economics, I find it fits with energy conservation and the environment as well. We can help raise the tide of energy efficiency so that we all benefit from it. This is why I strive to help clients define and achieve their efficiency goals.

About Pat
Pat joined the Michaels team in May of 2023 after spending almost 15 years working in HVAC and energy efficiency. Most of that time, Pat specialized in guaranteed savings performance contracting models for public sector clients in the MUSH markets. This experience has allowed him to branch out and bring new projects and financing models to clients in the private sector. His true passion is working with a client that has a desire to reduce their carbon footprint along with a willingness to explore new technologies to do so. He finds this is the most rewarding path to a happier client and a better planet.
At Michaels Energy, Pat will lead the national efforts to establish new client relationships outside of our existing client base. He has an established background working with clients in Healthcare, Hospitality, Municipalities, and Higher Ed. Along with the technologies that ultimately help achieve a clients stated energy efficiency goals, Pat also works with clients to bring cutting edge financing options to the table.
Pat studied Marketing at Westminster College and Natural Resources Management at Colorado State University.
When not working, Pat spends time with his wife Joly and daughter Veronica. Together they can be found outside enjoying skiing, fly fishing, boating, travel, and golf (this one is for Pat).
I have always had a deep appreciation for nature and our beautiful planet. When I learned about Michaels Energy and all that we do here, I was instantly intrigued. A goal I set for myself was to find a career where I could make a positive impact on the world, and I am happy to say I have found that at Michaels Energy. Every day, I get to make a difference for our planet alongside some amazing people. What a dream!

About Elisabeth
Elisabeth joined Michaels in February 2023. As Marketing Coordinator, Elisabeth contributes to company growth by supporting external and internal marketing initiatives. Her responsibilities include digital marketing activities, graphic and creative development, initiatives that build brand awareness and differentiation, meaningful content, and strategic relationships.
Before joining Michaels, Elisabeth developed her marketing skills within the non-profit industry. Elisabeth is excited to expand her knowledge to a new industry and learn more about energy efficiency along the way.
Elisabeth graduated from the University of Michigan-Flint with a Bachelor of Business Administration with a double major in Marketing and Entrepreneurship & Innovation Management. During her time at the University of Michigan-Flint, Elisabeth participated in a research project with a focus on creating a hybrid wind and solar turbine to provide energy for low-income homes in Flint, MI. This ignited the spark that established Elisabeth's love for energy efficiency and conservation.
Outside of work, Elisabeth enjoys adventuring with her dog Pluto, spending time with friends and family, fitness classes, reading, and exploring new breweries/restaurants in Raleigh.
As soon as I could walk, I spent as much time as possible outside learning about and protecting this beautiful world. Back then, I would relocate the little camouflaged frogs in our yard before my parents mowed the lawn. Today, I see the biggest impact I can make being in saving energy through large scale decarbonization. My passion is to collaborate with clients in local communities to create scalable and equitable climate solutions.
About Liz
Liz joined the Michaels team in March 2023 with almost a decade of experience in utility demand-side programs. In her role as the Client Engagement Consultant, she connects Michaels' brand with decision-makers and influencers in the efficiency and demand response industry to drive revenue growth. Her focus is on developing meaningful relationships that lead to impactful results and enjoying the process along the way.
Liz has always been mission-driven and truly realized her passion for collaborating locally to make the world more sustainable when she was volunteering at an elephant rescue center in a remote village in Thailand. From there, she began working at a non-profit dedicated to partnering with schools, communities, and businesses to drive sustainability solutions through education. Her role evolved from implementing California Investor-Owned Utility (CA IOU) workforce education and training programs to developing new partnerships to grow and expand the organization's impact. After the non-profit, Liz worked for a publicly traded energy consulting company and primarily managed CA IOU energy efficiency programs while spearheading the launch of an organization-wide supplier diversity program.
Liz graduated from the University of Connecticut with a Bachelor of Science in Environmental Engineering. She is a registered Engineer in Training.
Liz loves hiking in mountains and deserts, traveling to natural beaches, camping, backpacking, hot yoga, seeing live music, and relaxing over food and wine with family and friends.
"Growing up in South Louisiana, I've seen firsthand how climate change affects the natural landscapes around us. Energy efficiency work is a crucial first step to making a positive impact on this planet."
About Amanda
Amanda joined the Michaels Energy team in July 2023. In her role as Program Marketing Manager, Amanda brings her years of marketing knowledge and experience to assist Michaels' utility clients with marketing and promotion of their programs to end users. She works with clients and the internal Michaels sales and marketing team to develop strategies and implement tactics to best meet the needs of the program.
Amanda graduated from Louisiana State University in 2015, earning her Bachelor of Arts in Mass Communication with a concentration in Digital Advertising and minors in Business Administration and Anthropology. Prior to joining Michaels, she served as Marketing Manager for Woodward Design+Build, a New Orleans-based A/E/C firm specializing in integrated design-build. Additionally, Amanda has prior experience working as Project Manager for a small marketing agency.
On the weekends, Amanda lives her life by the classic Cajun motto "laissez les bon temps rouler!" She loves to cook, try new restaurants, play tennis, kayak in the Bogue Falaya river, and spend time with her husband and family.
Throughout my career, I have been obsessed with efficiency. Nothing irks me more than wasted time or energy. I also love working with people. Fortunately for me, I chose a career as an energy professional where I get to think about efficiency from a technical point of view and utilize both my engineering and communications skills to provide value to our clients.

About Christopher
Christopher joined the Michaels team in February 2021. He brings his experience and expertise to the Implementation group and is focused on the Strategic Energy Management (SEM) program in Colorado. This entails performing facility audits, building energy models and providing recommendations for energy savings measures – all the while coaching customers to take on energy management in a holistic way as an organization.
Christopher graduated from the Oregon Institute of Technology with a Bachelor of Science in Renewable Energy Engineering. Prior to joining Michaels he served as the Lead System Architect for JouleSmart Solutions in Portland, Oregon, an intelligent building solutions company focused on the Small and Medium-sized Building (SMB) market. A lifetime ago he received an undergrad degree in Theatre and Film from the University of Kansas.
Outside of work you can typically find him with his wife, Jenna, and daughter, Eva, somewhere out in nature hiking, camping or snowboarding.
I've always enjoyed appreciating problems from different perspectives and I see Michael Energy continually do the same.

About Mike
Mike joined Michaels Energy in 1999 as an intern in the IT department. In his current role as the IT Manager, Mike now manages the department. The IT department has grown from a single shared computer on a cart to a completely on-premises infrastructure supporting multiple offices throughout the country. Michael directs our migration to cloud services, coordinating with various service companies to support our increasingly remote workforce.
Michael graduated from Western Technical College in 2001 with two associate degrees. He enjoys volunteering in the community, watching science fiction movies, and having a good debate.
Since I was a young child, I have been enamored with the concept of environmentalism. I feel it is an honor to call the earth "home", and moreover, I feel it is our responsibility as inhabitants of this planet to care for and nurture the environment around us! Though my career did not initially start in the realm of energy conservation–but rather in the realm of human resources–I feel fortunate to bring forth my passion for people, business efficiency, and the planet into my role as a Project Coordinator with Michaels.
About Alyssa
Alyssa joined the Michaels Energy team in October 2022. Alyssa brings several years of experience working in human resources, specifically working on countless organizational process improvement projects. Aside from her HR project work experience, Alyssa also has several years of project planning and coordination experience within the La Crosse community relating to various cultural, social, and volunteerism efforts.
Alyssa graduated from Western Technical College with an Associate of Applied Science in Human Resource Management and a Bachelor of Science in Management from the University of Wisconsin-Stout. After obtaining her degrees, Alyssa continued to earn her SHRM-CP certification, allowing her to further apply and expand her HR knowledge within her career.
Outside of work, you can generally find Alyssa scouting for new bars/restaurants, traveling anywhere and everywhere, spending time with her friends and family, adventuring with her husband (Alec) and three pups (Audrey, Addie, & Ash), or binging on the newest "streaming" series.
Happiness can be found, even in the darkest of times, if one only remembers to turn on the light.' – Albus Dumbledore. I think this applies to my passion for supporting others and making an impact on our community. Being part of the Michaels team allows me to bring my positive attitude and can-do personality to all projects, co-workers, and clients.

About Jen
Jen joined the Michaels team in May 2021. She has 12 years of experience in the development, administration, and oversight of program operations and services. Naturally wired to communicate and connect with others, she continuously provides high-quality service while cultivating collaborative relationships with all stakeholders. Jen supports clients and project managers by identifying challenges and working together to find solutions.
Jen graduated from the University of Wisconsin-La Crosse with a Masters in Sports Administration and a Bachelor of Science degree In Recreation Management. Prior to joining Michaels, she was the R.W. Houser Branch Director at the La Crosse Area Family YMCA.
Outside of work, Jen enjoys reading, boating, playing board games, cheering on Wisconsin sports teams, and spending time with her family, husband – Brandon, and daughters – Molly (4) and Erica (1).
I like things to be as efficient as possible and enjoy helping others. Keeping our team organized and on track to deliver energy solutions to our clients allows me to do both. It's important that I make a positive impact on our planet and that our team has fun doing it.

About Kelly
Kelly originally joined the Michaels team in 2009. She has over 20 years of project coordination experience, primarily in engineering. Kelly has worked with all aspects of Michaels' energy efficiency offerings, including program technical support, end-user studies, and program evaluation, and has never shied away from learning something new. Kelly loves the variety of tasks our work provides and getting lost in the details.
Kelly graduated from Saint Mary's University of Minnesota with a Bachelor of Arts in Business Administration. Before finding her home at Michaels, she developed her affection for engineering at a firm specializing in the design of wastewater treatment plants.
Outside work, you can typically find her spending time with her husband, Matt, and their kids, Mason and Maren, hiking, camping, playing board games, doing puzzles, or a competitive round of mini golf. She also enjoys golfing and curling up with a good book.
"As the saying goes, the Stone Age did not end because we ran out of stones; we transitioned to better solutions. The same opportunity lies before us with energy efficiency and clean energy." ~Steven Chu

About Carlie
Carlie joined the Michaels Energy team in July of 2023 as a Project Coordinator. She brings with her over 20 years of Project Management experience in consulting services for Corporate Real Estate. Carlie's passion for both energy and process efficiencies helps elevate the Custom Rebate Team's services to the next level.
Carlie graduated from Western Technical College with an Associate of Applied Science in CIS Microcomputer Specialist. More recently, she earned her Professional Agile Leadership I (PAL-I) certification, allowing her to further develop and expand her project management expertise using agile methodologies.
Outside of work, Carlie loves spending time with her husband, children, and dogs. Together, they enjoy cooking and baking, cruising the Mississippi River in their boat, hiking, and camping. You can also find Carlie patronizing local live music events, art and craft festivals, and planning her family's next big adventure.
"Leave this world a little better than you found it." – Robert Baden-Powell. Ever since our son was born, my husband and I have felt an immense calling to ensure we provide him with the best possible world. This mindset is what lead me to enthusiastically join the Michaels Energy family. I know that the work being done every day will create a more robust planet for many generations to come.
About Jen
Jen joined Michaels Energy in July 2023. After graduating from UW-Platteville with a degree in accounting and years of experience as a Financial Analyst, Jen most recently found success as a small business owner. By leaning into her business experience and desire to combine her analytic skills and creativity, she built her wedding photography business, Pink Spruce Photography.
Utilizing this unique combination of experiences, Jen looks forward to providing support to Project Managers while also supporting the Finance and Accounting team at Michaels.
Outside of work, Jen enjoys spending time with her husband and son. They enjoy outdoor adventures, camping, board games, and (most recently) sailing. They live on a 34-acre farm in Wisconsin growing Midwest hazelnuts. Jen also has a knack for knitting and thrifting and will never turn down a margarita night or a Brewers game with friends.
I have always identified myself as a versatile, multi-disciplinary individual. Throughout the last few years, as I progressed through college, I found myself increasingly disoriented when contemplating my place in the workforce. The options for our future, classically advertised to students, seemed insubstantial and hyper-focused. I strived to work for a place that appreciated diversity and established outside-of the-box challenges. I believe I found it. Michaels does not only allow for integrative development, but it also accepts our common responsibility for an environmentally friendly future. We love that.
About Liz
Liz joined the Michaels team in June 2023, for a Co-Op position through fall of that year. She graduated the University of Minnesota, Twin Cities in May of 2023 with a Bachelor of Science in Astrophysics and a minor in History.
Liz has a background in engineering and computer science, as well as a wide physical knowledge ranging from thermodynamics to quantum mechanics. She hopes to pursue a master's degree in Optics in the future, to aid in shaping the technology that helps us and the earth every day. She hopes that energy efficiency, decarbonization, and sustainability continue to be key values in the development of her career.
Hobbies that Liz usually partakes in are cooking, indoor cycling, reading, eating ethnic foods, and walking around. She enjoys the outdoors especially during the early fall!
I really enjoy helping people achieve their goals. Working in energy efficiency provides a great outlet for my passion because I get to provide guidance and connect people with solutions. How could you not love a job where you help people save money and protect the environment?

About Julie
Julie joined the Michaels Energy team in 2014. In her role as Associate Director of Programs, Julie is focused on developing strategic direction, defining solutions for client needs, designing, developing & launching new programs, providing training and defining marketing strategies for programs..
Julie began her professional career as a recruiter connecting people to jobs. She also worked in marketing, customer administration and new product development, prior to discovering the world of energy efficiency in 2004. She began her energy efficiency career as a utility product manager responsible for managing energy efficiency programs, goals and budgets for about every customer segment imaginable. In this role she also designed and launched programs, contributed to utility filings, reported to regulators, and defined customer outreach.
Julie always says she is passionate about helping people and businesses be better than they were yesterday. After nearly 10 years of utility program management, she is excited to work at Michaels where she feels she can do this on a grander scale.
Julie earned a Bachelor of Science degree in Psychology from the University of Northern Iowa.
Outside of work, Julie loves her family time with her husband and her two children. In her free time, she enjoys reading, vacations,, going for walks, working on home projects and relaxing with friends.
"The greatest threat to our planet is the belief that someone else will save it." Robert Swan wrote that quote and it speaks to me. We all have a responsibility to lead decarbonization and the energy transition. This is not something we can leave for our grandchildren to do, it is something we must do for them. I view my job as an opportunity to create breakthroughs, thinking outside the box, providing solutions to large scale energy problems.
About Stan
Stan joined Michaels Energy in February of 2023. He brings a decade of experience in energy efficiency and the implementation of Phase Change Materials for Utility Load Shedding Programs. He is a patent holder for Thermal Energy Storage using Phase Change Material. His experience is broad in this field in that he has set up sourcing and production in multiple countries, developed proprietary algorithms to meet the ongoing demand of IoT for continuous commissioning, and he is now developing comprehensive utility load shifting programs for aggregating islanded loads for peak demand load shifting. His hands-on approach includes facility assessments targeting specific thermal waste, harnessing thermal mass, developing passive cooling strategies, and logistics coordination to maximize heat load reduction.
Over the past few months, Stan has been consulting with utilities, tax accountants, architects, and engineers on how to maximize tax credits from the new Inflation Reduction Act. Most recently, Stan has developed a retro commissioning program management tool that enables facility managers to track baseline utility consumption against optimization efforts. He has established scope of work for R-TES, and has written commissioning guidelines for installers, distributors, and resellers. Scopes of work included developing baseline energy consumption data, energy models and carbon footprint reduction strategies.
Outside of work, Stan loves the outdoors and is an avid fisherman. He has been recognized for his various accomplishments in salt water fly fishing by the IGFA where he has broken over 160 world records and counting.
Equity moves at the speed of trust.
About Bob
Bob joined Michaels in November 2022 and is responsible for supervising Michaels' Product Managers and managing new product launches.
Prior to Michaels, Bob prioritized, designed, and managed new programmatic areas for Seattle City Light, including components of its equity-based transportation electrification portfolio. Before that, Bob held a variety of program management and sales support roles with energy efficiency program consultancies that engaged utilities across the country. Beyond his career with electric utilities, Bob previously worked alongside entrepreneurs growing their businesses and was a VISTA volunteer. Bob earned his MBA from UC Berkeley's Haas School of Business and his bachelor's degree in Environmental Studies from Bowdoin College.
Bob loves tennis and hopes to have a winning record over the 4,000+ matches he's played. Bob and his wife have two daughters that they cart around to various kid activities.
Working in energy efficiency, I feel like I'm doing my part to pay the rent for living on this planet and leaving things better than I found them. Sharing that passion with others brings me immense joy!
About Kenny

Kenny joined the Michaels team in 2022. In his role as Manager of Account Management, he provides leadership to the Account Management team in addition to bringing experience and expertise to the Programs group focusing on the outreach and delivery to multiple clients across Colorado.
Kenny has spent most of his career in Energy Efficiency. Before joining the Michaels team, Kenny started out his EE career at CLEAResult as a direct install coordinator in Tulsa, OK. He then received a promotion to lead the direct install program in Denver. Kenny then moved into an outreach role that required him to wear lots of hats from launching pilot programs to implementing retail lighting programs and commercial and residential audits. After 7 years, Kenny joined Resource Innovations as an Outreach Service Provider supporting large municipal customers for ComEd.
Outside of work, Kenny enjoys spending time with his family, visiting National Parks, camping, gardening, and making quality pizza.
I find energy efficiency like a great puzzle to figure out. Find out what is wasteful and then find a solution that fits the customer. There are so many new technologies to figure out, or revamps on older technologies. I'm always seeing unique solutions to problems. The vast variety of technologies we deal with makes a consistent and fun learning experience since we are constantly reviewing new technologies.

About Andrew
After six years in the US Navy Nuclear Program, Andrew went to college and received a degree in Mechanical Engineering at Southern Illinois-Carbondale. From there he joined Michaels Energy in 2008, where he works on feasibility studies, retro-commissioning studies, ASHRAE level two studies, measurement and verification, and custom rebate calculations. He has worked with customers large and small, and projects simple to complex.
Outside of work Andrew likes playing piano, kayaking, cross country skiing, hockey, and mountain biking. He enjoys traveling to new places, meeting interesting people, and how different cultures have adapted to the same problems. Also he loves to watch any big sporting event around (regardless of the sport or culture).
When I look at problems, I like to find solutions where all stakeholders maximize their benefit. This means that energy efficiency measures must have a payback and be done in a way to optimize system reliability and useability. There are a lot of things that can be done but the things that capitalize on everyone's benefit are what we should be focused on.

About Bob

Bob joined Michaels in 2021after working in the Facilities and Energy management industry for 13 years. Bob has an Associate Degree in Construction Supervision from Dunwoody Institute of Technology and a Bachelor of Science in Mechanical Engineering from the University of Minnesota. Bob has worked in various positions that allowed him to develop project management skills, work on energy-efficient projects, and support all aspects of a building lifecycle.
At Michaels Energy, Bob focuses on the most important and longest part of the building lifecycle process as he continues to use every resource available to reduce operating costs while increasing system reliability. He supports the Minneapolis/Saint Paul market and the state of Iowa by processing standard and custom rebates, performing facility audits and recommissioning studies, and assisting customers.
When not at work he is looking into the future by volunteering as a Scoutmaster for a local boy's troop. In the remaining free time, you will find him fixing, building, or organizing anything from a bicycle to large industrial equipment.
I feel called to work on energy efficiency, because eliminating waste and changing our behavior serve as the vanguard in restoring balance to our climate. I love when I can help people create a culture of success to achieve better results. Solutions might be "no-brainers" but they still take a lot of brains to implement.

About Carl
Carl Samuelson is grateful that he's been able to spend his entire career focused on energy issues. Prior to joining Michaels in 2013, he worked on energy via public policy, community organizing, residential energy auditing, and research focused on food service energy efficiency. He's a graduate of Saint Olaf College, with a degree in Political Science. He also is a Certified Energy Manager.
At Michaels, Carl's career has evolved as work bridging the technical and the human elements of energy efficiency continue to expand. He helped to develop Michaels' Strategic Energy Management program, which helps businesses think about energy as a strategic resource.
He's led research on how electrification can achieve efficiency and carbon reduction for businesses and utilities. Carl has enrolled dozens of commercial buildings in retro-commissioning study programs. Carl currently manages work for utility clients in Minnesota and Colorado.
Carl is the enthusiastic father of three kids. In the evenings you'll find him playing catch, reading Where the Wild Things Are, or singing bedtime songs. Carl enjoys cross-country skiing, playing disc golf, traveling, and cooking or eating something new. He's always happy to get the chance to discuss a good book or a big question over some shared food and drink.
My passion for energy efficiency lies in creating more comfortable environments for people to live and work in.
About Sharie
Sharie joined Michaels Energy in 2022. In her role as Product Manager, she provides program support to utilities in Iowa and Illinois. Sharie likes to say that she started her career selling air (radio advertising). While in radio, Sharie volunteered for Big Brothers Big Sisters which lead to a full-time role in volunteer recruitment, fundraising, and marketing with the organization. In 2007, Sharie joined a gas and electric utility as a Product Manager for demand response and commercial/industrial energy efficiency programs. Sharie spent 12 years at the utility in energy efficiency, account management and renewables before moving on to a solar installation company as a Project Manager. One thing Sharie has carried from industry to industry is her enthusiasm for identifying opportunities for process improvement.
Sharie has a Bachelor of Arts degree in Broadcasting from the University of Northern Iowa and a Master of Business Administration in Organizational Development from Upper Iowa University.
Outside of work, Sharie spends a lot of time reading and enjoys photography. She has one child and a large extended family and loves to travel.
I was raised in the marshlands of Florida and fell in love with the diverse ecosystem. From the coastal beaches to navigating the inner coastal in a kayak and cooling off in summers in one of many natural springs to choose from in the state. That love for the land and water resonates in my passion for wanting to preserve that beauty that started my love for energy efficiency and sustainability.
About Olivia

Olivia joined the Michaels team in August 2022. In her role as Product Manager, she brings experience and expertise to the implementation group and focuses on energy efficiency programs in Illinois.
Olivia received her Bachelor's Degree in Business Administration from Florida Atlantic University. Shortly after graduating, she attended Nova Southeastern University and received her Master of Business Administration. Olivia started her sustainability journey as an Account Manager in the waste industry with a focus on the medical sector in San Antonio, Texas. She then had the opportunity to transition to energy efficiency and accepted a position for CLEAResult. She worked as a Project Manager for 3 years with a focus on commercial, school, and military projects before accepting a Program Coordinator position in the residential sector for ICF Consulting in Detroit, Michigan.
In her free time, Olivia enjoys life and experiences by traveling, kayaking, biking, climbing, camping, and attending live concerts. In her downtime, she enjoys spending time with friends, family, and her two cats.
Inefficiency bothers me. When something doesn't work right or as efficiently as it should, I want to find out why and I want to fix it. It's going to bug me until I figure it out. For that reason, it's great to have an opportunity to help customers find and implement solutions to the problems that they are having and help them save money and energy at the same time.

About Stephen
Stephen first interned for Michaels in the summer of 2009. He must have made a good impression, as after graduating from the University of Wisconsin – Madison in the spring of 2010 with a Bachelor of Science degree in Mechanical Engineering, he was hired on full time. Stephen works in the Program Engineering Department performing analysis on efficiency projects and managing the day-to-day operation of various efficiency programs.
This work includes evaluating technologies or projects for energy saving potential, calculating possible customer incentives, completing field investigations, data logging and data analysis, researching and keeping up-to-date on ever-changing energy codes, launching and developing programs, monitoring adherence to program rules and guidelines, making recommendations for continuous program improvement, and reporting savings on a per-project level or on a program-wide level. Since 2015, Stephen has been providing energy efficiency program management support for multiple clients in various states around the country.
Outside of work, Stephen is an avid sports fan and attends as many Packers, Badgers, and Brewers games as possible throughout the year. He also enjoys playing sports and being outdoors, particularly for cycling and running. When it's not warm enough for all the usual outdoor activities, Stephen will still try to keep running (albeit with more layers) but is just as content to hunker down with a good book or movie.
I always knew I wanted to make a positive impact on the world, but didn't always know how exactly how I'd do that. I realized I could use my engineering degree to help mitigate climate change (duh) after teaching in Mexico, some soul searching, and a little documentary called An Inconvenient Truth. Working in energy efficiency allows me to continuously learn, feel that I am a part of something larger than myself, and know that I am doing all I can to make the world my little ones will inherit a livable one. Energy efficiency isn't just my job, it's my passion.

About Andrea
Andrea joined the Michaels Energy team in 2019. As a research and evaluation consultant, Andrea's role is to help utilities and other entities working in energy efficiency understand whether their programs are working, and where improvements can be made to ensure energy savings are maximized. She also helps with research projects aimed at better understanding customers, market conditions, and barriers to the adoption of energy efficiency.
Andrea began her career designing (and sometimes even installing – despite her fear of heights) solar PV systems. She performed feasibility studies, participated in design charrettes, and prepared design documents for permitting and interconnection.
It was at this job that Andrea noticed a disconnect between utility programs and the needs of customers and contractors. Paperwork could be onerous and rebates took too long to process. This disconnect was a problem, and Andrea's next move was to try to help solve it.
In 2010 Andrea began her work in demand-side management programs. She researched best practices in program design, tracked and presented on new technologies for utilities to consider incorporating into their portfolios, and published reports on changes in the industry. She also evaluated utility programs, performed research to inform baselines, hours-of-use, and other technical parameters, and conducted interviews with market actors to discover non-technical, human-based factors that created barriers to the adoption of energy efficiency.
Andrea earned both her Bachelor of Science degree in Engineering Physics and Master of Science degree in Architectural Engineering from the University of Colorado at Boulder.
Outside of work, Andrea cherishes family time with her husband and two boys. Her newest interest is in mindfulness, meditation, and the mind-body connection. She loves reading, cooking, exercising (especially in the beautiful Colorado outdoors) and taking time to connect with family and friends.
I began this path in energy efficiency without realizing the overall reward I would feel in creating a space for clients and customers we encounter. Creating and executing energy efficiency solutions is the most fulfilling journey I have been on.

About Tony
Tony joined the Michaels team in June 2023. He has worked in implementation and operations of lighting, HVAC and water measures for over twenty years. Over the duration of his career, he has worked in many functions such as service technician, energy auditor, proposal generator, new program launch coordinator and director of operations.
Tony attended NC A&T State University where he majored in Economics. Prior to joining Michaels, Tony served as Regional AVP at Lime Energy before moving into a similar role with Willdan Energy.
Outside of work you can usually catch him relaxing with his family, wife Datiana, son Jordan, son Franco and daughter Taylor or watching basketball.
"Energy cannot be created or destroyed; it can only be changed from one form to another." – Albert Einstein
Energy efficiency is imperative to the future of humankind. I love finding solutions to complex problems and working with people smarter than me; both are achieved in the energy efficiency field.
About Adam

Adam joined the Michaels Energy team in 2022. Prior to Michaels, he had worked within the ComEd program as a Facility Assessment team member and conducted client outreach. Adam has implemented 14 different incentive programs across the country for an international natural gas and electricity retailer. He has also worked as a Product Engineer, an Applications Engineer, and (fun fact) a toy designer!
Adam graduated with a Bachelor's degree from the University of Wisconsin and has taken coursework towards a Master's degree at UIC and Loyola University. Adam became a Certified Lighting Efficiency Professional in 2018 through the AEE Seattle Chapter.
Outside of work, Adam enjoys playing pool, skateboarding, biking, snowboarding, surfing, and writing reviews for obscure products online.
As an avid recycler, I believe that every little bit helps the environment. Wanting to conserve the planet has led me to the energy efficiency field to help the environment and encourage others to be more energy efficient.
About Kathryn

Kathryn joined the Michaels team in 2022 as an Account Manager for Outreach. Prior to Michaels, she worked for contractors and as an Energy Advisor for small businesses and commercial and industrial (C&I) facilities. She has been in the energy efficiency field since 2014.
Kathryn graduated from the University of Phoenix with a Bachelor of Science degree in Environmental Science and a minor in Project Management.
Outside of work, Kathryn enjoys spending time with her dog, Boba Fett, maintaining her betta fish tank, and taking her Firebird Formula out on nice days. She is also a huge Star Wars nerd.
Efficiency is doing better than what is already being done. The energy efficiency industry has given me a platform from which to educate and coach being a better steward of the earth.
About Aaron

Aaron began his career with Michaels Energy in 2022. With 14 years of industry experience, Aaron is an invaluable asset to our outreach team. Whether it's interfacing with utility customers or the contractors who service the Energy Efficiency programs, Aaron provides insights into the EE culture and benefits that bring value to everyone involved.
Aaron graduated from Purdue University with a degree in Business Management and a minor in Engineering. His past experiences with EMS and industrial systems as the Lead Field Engineer with Profile Systems and past dealings with Energy Efficiency programs have provided him the tools to succeed in his role.
When not engaged in business activities, Aaron enjoys his time off with his children on vacation or a random road trip.
As the demand for energy continues to grow, so will our need for energy efficiency. Being a part of an industry that creates a meaningful impact on our world has given me tremendous perspective and gratification. I am passionate about finding solutions for everyone so that we all can invest in a more sustainable way of life.
About Justin
Justin is a certified Project Management Professional who joined the Michaels team in 2021. He brings his experience and expertise to the Programs group and is focused on the delivery and outreach of Dominion's Energy Efficiency Programs in Virginia.
Justin received his Associate Degree in Mechanical Engineering from Frederick Community College before transferring to the University of Maryland, Baltimore County to receive his Bachelor Degree of Environmental Science. Upon graduating, Justin worked at ICF for 4 years, helping implement the EmPower MD programs. He began as a Project Coordinator before transitioning over as the Account Executive for PEPCO's Energy Efficiency Programs.
In his free time, Justin enjoys traveling and staying active through a variety of activities including snowboarding, hiking, canoeing, camping, and golf. When he is not busy, he spends most of his time hanging out with his girlfriend, Allision, and Australian Shepherd, Bodie.
"If someday they say to me that in my work, I have contributed something to the welfare and happiness of my fellow man, I shall be satisfied." — George Westinghouse
It gives me great joy to work in a field that allows me to not only help owners/operators save money and increase productivity, but also make a positive impact on the planet.
About Michael

Michael joined the Michaels team in 2022. Prior to joining us, he supported the ComEd Standard/Custom Program as a member of the outreach team.
Michael has been in the energy efficiency field since 2012, holding various positions such as Project Manager, Inside Sales, and Purchasing Director. Michael's experience in various roles gives him the ability to understand and remove potential roadblocks preventing customers from implementing Energy Efficiency measures while considering their operational needs.
When Michael is not working, you can find him enjoying the outdoors fishing, camping, hiking, and taking advantage of the beautiful North Carolina weather.
"If you want to find the secrets of the universe, think in terms of energy, frequency, and vibration…" – Nikola Tesla
I chose to work in a field that allows me to not only aid businesses in becoming more sustainable/efficient but also increase longevity for the planet we call our home.
About Danny

Danny joined the Michaels team in 2022. Prior to joining us, he worked as an Account Executive for Xerox providing tailored technology solutions to improve the workflows of businesses to increase their overall efficiency.
Danny graduated from Northern Illinois University with a Bachelor of Science degree in Marketing and a certification in professional selling. During his time at Northern Illinois University, he also played on the football team for two years.
Outside of work, Danny is a thrill seeker who enjoys skydiving as much as he can in the warmer months of the year. He also enjoys being active and exploring new places in downtown Chicago.
I didn't choose energy efficiency; it kind of fell in my lap. Now that I have been in this career, I enjoy showing my customers how to become more energy efficient with the knowledge that I give them. I find it rewarding to help them on their energy efficiency journey.
About Natosha

Natosha joined the Michaels team in 2022. She brings her experience and expertise to the implementation group and is focused on the Standard Program in Chicago. Before joining Michaels, she was a Senior Outreach Consultant for CLEAResult for almost 5 years. She played a major role in bringing in assessments and projects, building new relationships, and delivering assessments once they were completed. In her last year with CLEAResult, she ushered in 100+ projects for the Business Optimization Program; a first-year program that was very important to her client.
Natosha graduated from Benedictine University in Lisle with her Bachelor's in Business Management and graduated Cum Lade.
Natosha and her family like to travel together. On Christmas, they like to wear matching pajamas.
There are many reasons to be enthusiastic about the future of energy efficiency. In addition to improving building performance energy efficiency is helping to conserve resources and achieve sustainability goals. To borrow a phrase from a colleague, energy efficiency has become the "silent hero" of the clean energy economy.
About Terry
Terry joined Michaels in February 2023. Previously, he worked around the Twin Cities area as an organizer on clean energy campaigns and engaged with communities to promote residential energy efficiency. As a member of the Programs team, Terry draws on this experience to build relationships and connect customers to energy efficiency programs in Minnesota.
Terry graduated from the University of Minnesota with a Bachelor's (BA) in Philosophy and a Master's in Public Policy (MPP).
When he is not promoting energy efficiency, Terry enjoys reading, biking, camping, gaming, and spending time with family and friends.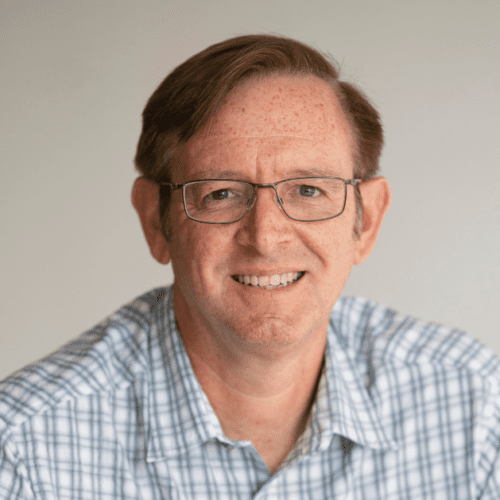 "The greenest energy is the energy we don't use."
The headline of an article written by Martin Rossen, in which Rossen emphasizes the importance of energy efficiency solutions as we seek net-zero greenhouse gas emissions.
About David

David joined the Michaels team in July of 2023. In his role as Account Manager for a Retro-commissioning program, he is responsible for conducting outreach in the state of Indiana. He brings 4 years of experience promoting residential, multi-family, and small business energy efficiency programs.
Previously, David worked as a Manufacturer's Representative, gaining over 20 years of sales, customer service, and marketing experience.
David has a Bachelor of Science degree from Purdue University in Environmental Science. His certifications include Building Analyst Professional (BPI) and Apprentice Lighting Technician (NALMCO).
Outside of work, David enjoys hiking & biking along the Ohio River, listening to 90's alternative/grunge music, eating out at independent restaurants (with a good IPA on tap!), cheering on his Boilermakers, and visiting his brother in Hawaii!
I have had an unwavering passion for sustainability and conservation since I was a child that gets stronger every day. Energy efficiency is especially intriguing to me; finding solutions that lead to decarbonization is both necessary and exciting. I am thrilled to work for a company that allows my work to be impactful and make a positive change for both people and the environment. The time to act is now!
About Paityn

Paityn joined Michaels Energy in August of 2023. As an Account Manager in Chicago, she interacts with K-12 school administration and decision-makers for energy efficiency programs. She serves as the main point of contact for the schools and trade allies and converts leads to energy efficiency projects that result in energy savings.
Paityn earned her Bachelor of Science degree in Environmental Science and a minor in Geology from the University of Michigan. Afterwards, she earned her Master of Science degree in Environmental Science and Policy from Northeastern University. During her time at Northeastern, she also developed online energy courses and instructed thousands of global learners as an Online Education Program Assistant at the Massachusetts Institute of Technology (MIT).
Paityn enjoys traveling to learn about the world from a hands-on perspective and interact with others with worldviews differing from her own. She has stepped foot on all seven continents and is always excited for her next adventure! When she is at home, she enjoys getting outside and spending time with her friends and family.
The most sustainable and ethical energy is the energy we don't consume at all.
About Tayloire

Tayloire joined the Michaels Energy team in 2023. He brings a deep passion and expertise for connecting with organizations and elevating energy efficiency and sustainability within their larger business strategy.
Tayloire attended Michigan State University and graduated with a Bachelor of Science in Electrical Engineering. Prior to joining Michaels Energy, he implemented energy efficiency solutions across the U.S. as an energy engineer, consultant and energy management coach.
Outside of work, Tayloire enjoys traveling, learning new languages and playing several musical instruments.
As a kid, I loved the book 50 Simple Things Kids Can Do To Save The Earth because it showed how small changes can accumulate to create major impacts. So, in retrospect, it is not surprising that I found a calling in energy efficiency. Beyond helping others save energy, what I love most about my role as a consultant is helping clients answer questions and solve problems. Very often, the answer is right there and is relatively simple – it only takes an outside perspective to bring it to light and to identify the steps needed to create major changes.

About Jake
Jake joined the Michaels Energy team in 2020. Throughout his career, Jake has utilized research methodologies to meet clients' strategic needs. Since 2007, Jake has evaluated and conducted research for a wide variety of energy efficiency programs in the residential, commercial, and industrial sectors. His experience evaluating utility, state, and national portfolios has provided him with a comprehensive understanding of how energy efficiency and renewable energy programs are implemented and what is needed for successful evaluations of their impacts and processes, for quantifying their benefits and costs, and for estimating their potential. Jake has extensive experience conducting market actor and customer research to better understand customer decision making, barriers, and attribution and how these impact program performance and the uptake of energy efficiency.
Jake earned a Bachelor of Arts degree in Economics and Politics from Brandeis University (Waltham, MA) and a graduate certificate in the Foundations of Business from UMass Lowell.
Outside of work, Jake likes to go on adventures with his wife and three kids. As they grow older, Jake is excited to incorporate his kids into his hobbies of running, playing music, ultimate Frisbee, making bread, and exploring New England on foot, bike, ski, and kayak.
My obsession with energy efficiency and energy conservation started in college, and it has only become stronger over time. My job has not only allowed me to help customers optimize their energy use to save costs and reduce their environmental impact, but it has helped me gain perspective about how all the little things we do impact the natural world around us. As an avid outdoorsman, anything that I can do to help people be more stewardly of our natural resources and preserve them for generations to come is always worth the effort.

About Joel
Joel joined the Michaels team in 2011 as part of the Research & Evaluation group. He has extensive experience with utility program evaluation, energy monitoring and data logging, building energy models, and utility market studies. Joel also helps the Michaels team with energy audits and custom rebate analyses and manages the company's inventory of data loggers and other field equipment.
Joel graduated from Dordt University in 2011 with bachelor's degrees in Engineering and Physics. He is a licensed P.E. in the state of Wisconsin.
Outside of work you can often find him building something in the workshop, exploring state & national parks, fishing, or in the garage restoring old cars.
I've reinvented my career to focus on energy systems and protecting the natural environment. At Michaels, I'm fortunate to work with the people and technologies at the vanguard of energy efficiency and help move the needle towards a sustainable future.

About Jeff
Jeff joined the Michaels team in August 2022. He brings his professional experience and academic tenacity to the Research and Evaluation group. His experience working in local government and surveying energy professionals across the country has exposed him to various energy efficiency programs. Jeff has designed and performed residential energy efficiency audits and loves spending time with people to educate them on energy efficiency resources and technologies.
Jeff recently graduated from the University of Michigan with a Master of Science in Environment and Sustainability and a Master of Urban and Regional Planning. His focus areas included utility-scale renewable energy systems modeling, incorporating artificial intelligence into natural disaster recovery and preparedness, and non-motorized transportation infrastructure. Before grad school, Jeff served as a Project Manager, mitigating waste and recovering fuels from industrial hazardous materials. Jeff earned a Bachelor of Science degree in Biochemistry and Molecular Biology from Michigan State University and an Executive Project Management certificate from Loyola University Chicago.
Outside of work, Jeff spends time with his wife, Amanda, and daughter, Lyla. Jeff likes to golf, ride his bicycle, read books, and relax at the lake. However, Jeff's favorite activity is cooking delicious meals for friends and family.
Insanity is sometimes defined as doing the same thing over and over again and expecting different results. In my role, I get to support our company as well as our customers in helping them reach their efficiency goals. My success is measured by their success. Each day brings a new opportunity to explore new and innovative ideas, which is quite the opposite of insanity.

About Paige
Paige started her career at Michaels as an Engineering Support Specialist in 2013 before moving into the Senior Project Coordinator position. Today, Paige is a Product Manager for the Research & Evaluation team.
Paige's focus is working efficiently and effectively for her colleagues and clients by listening to their individual needs and concerns. From the time a project begins to its completion, she uses best practices and processes to ensure that Michaels is delivering an exceptional product. More recently, Paige has taken on the role as deputy project manager for select projects. In this role, Paige gets to showcase her skills and dive deeper into the world of energy efficiency.
Paige earned a Bachelor of Science degree in Business Management as well as a Master of Business Administration, both from the University of Wisconsin, La Crosse.
Paige and her husband Adam live in a house built in 1913, so house projects take up most of their free time. On the rare occasion that there isn't some kind of house project to tackle, Paige enjoys spending time with friends and family and exploring the coulee region during each of its beautiful seasons (likely stopping at a brewery or winery along the way).
"Perhaps the biggest influence that led me to where I am today was an environmental economics course. On the first day of class the professor proclaimed that the course was not about how to save the planet or to promote environmental conservation. Rather, the focus was on the allocation of scarce resources, market intervention strategies, and learning the tools to estimate costs and benefits of market interventions and regulations, and data needs to inform policy decisions. About a third of the class did not return after that first day, but I definitely stayed!"

About Jennifer
Jennifer joined Michaels Energy with over 25 years of experience in the energy efficiency industry. Jennifer began her career as an evaluator of the energy and demand impacts of utility-administered energy efficiency programs, primarily in California. As policy and regulatory objectives shifted, her experience broadened to include market baseline and market effects studies, pilot program design and evaluation, and process evaluations and workflow analysis. Jennifer later served as the Evaluation Director and then the Business Development Director for a small energy industry consulting firm. Most recently Jennifer has served as staff for the California Technical Forum (Cal TF) through which she led cross-functional teams to advance processes and standards for deemed energy efficiency measure development and documentation, and regulatory review workflow.
Jennifer earned her Master of Science in Mineral Economics (Energy and Environment track) and her Bachelor of Science of Economics from Penn State University. Much of her graduate research involved contingent valuation studies to estimate non-market impacts and risk perceptions related to coal mining, transportation, and coal-fired generation.
When she is not working, you can find Jennifer in Santa Cruz, California walking the beach, at local restaurants, and enjoying live music with her partner Marc, friends, and her cherished dog "Rudy". She has two daughters who are currently attending college (but not quite out of the nest yet).
Michaels Energy allows me to combine my interests in both sustainability and evaluation. I'm grateful to work for an organization where I can use my skills to help our partners in the energy industry.

About Jessie
Jessie joined Michaels Energy as a Research & Evaluation Analyst in September 2023.
She holds a bachelor's degree in Economics from the University of Wisconsin – La Crosse, and a master's in Public Policy from the University of St. Thomas.
Prior to Michaels, Jessie worked as an Evaluation Specialist with Minneapolis Public Schools where she led evaluations to support district leaders in making data-driven decisions. She has experience in the entire evaluation lifecycle including the design, planning, data collection, analysis, and reporting processes.
Outside of Michaels, Jessie enjoys spending time with family and friends, cooking, volunteering, and staying active outdoors through running, hiking, and cross-country skiing.
Whether it is material scrap on a production line, confusing processes, or inefficient energy use, I've always been on a mission to reduce waste in whatever I do. I want to optimize everything and make full use of the available resources. If one combines those ingredients with a love for thermodynamics and solving "energy puzzles", it becomes clear why I am at Michaels. I believe that every user of energy deserves to get the most out of what they are paying for and I am fortunate to be able to quantify that and impact energy use in dozens of buildings.

About Rob
After discovering that manufacturing engineering wasn't the right fit, Rob went back to school and his number one priority became finding a job in energy efficiency. He wanted to conserve resources, both environmentally and financially, and this job allows him to do both. In his time at Michaels, Rob has been able to work on a variety of projects – research projects, impact evaluation studies, technical reference manual review and development, custom rebate analyses, retro-commissioning studies, industrial new construction projects, industrial refrigeration analyses, and more recently, strategic energy management and energy information systems. The potpourri of work always keeps things exciting. He's excited to now lead our engineering group, maintain Michaels' excellent technical proficiency and customer service, and help our engineering staff grow professionally.
Rob received his bachelor's degree in mechanical engineering from Iowa State University, specializing in manufacturing engineering, before briefly working in the semiconductor industry. After deciding that wasn't the right environment for him, he completed his Master's degree in mechanical engineering at Texas A&M, focusing this time on energy and HVAC systems, and was lucky enough to find Michaels after graduation.
When not working, Rob loves spending time with his wife and daughter, watching baseball (go Red Sox!), playing with his dog Angus, volunteering with Iowa FIRST LEGO League, spending time up north on the lake, or playing a musical instrument: bass guitar is his primary one, but he dabbles in mandolin, guitar, harmonica, piano, and others.
This career was a natural progression for me. I have always had a passion for reducing my own carbon footprint, and in turn, wanted to pursue a career that would enable me to help others do this as well.

About Andrew
Andrew joined the Michaels Energy team in March of 2020. In his current role as an Assistant Engineering Manager, Andrew manages and coaches our Colorado engineering team while also focusing on the implementation of our SEM program. He balances his time between the technical engineering aspect of energy savings calculations and providing recommendations and interaction with customers.
Prior to Michaels, Andrew spent 6 years working as a Project Engineer, providing energy-efficiency consulting to utilities and energy enterprises. He received a Bachelor of Engineering in Mechanical Engineering from the University of New Hampshire, where he also competed as a Division 1 Varsity Cross Country Ski Racer.
Andrew and his wife own and operate their own professional mountain bike team, where they travel around the world competing in professional events across several cycling disciplines. Aside from cycling, his passions include coffee, his dog Callie, traveling, XC Skiing, running, and music.
We see such a variety of systems in this business. But no matter the facility, there is always a way to optimize or gain efficiency somewhere or somehow. I enjoy the challenge of determining the best solution for all parties involved.

About Joe
Joe came to Michaels in 2012 after working in the efficiency industry in San Diego, CA, for seven years. Since that time, he has performed energy analyses for custom rebates, energy audits, and investment-grade studies. These efforts involve performing detailed data analysis, field investigations, and data logging. Joe earned his Bachelor of Science degree from Michigan State University and is a licensed professional engineer in California and Minnesota.
Outside of work, Joe is usually chasing his kids around the house or tinkering the yard. When the weather turns cold, he can often be found playing drop-in hockey somewhere.
I love logic puzzles, and in a way, energy efficiency at any building is just one giant logic puzzle. Audits consist of identifying the pieces of the puzzle and how they currently fit together and then identifying new ways to fit the pieces together or remove them entirely. Some methods will be common, but sometimes some very dedicated thought, effort, and imagination are required to find a truly ideal solution to a unique situation. The challenges offered along with knowing I am making a positive impact on the world by saving energy are big reasons why I work in this field.

About Patrick

Patrick started his engineering career doing level two and three ASHRAE energy assessments for the State of Illinois on commercial and public sector buildings. During this time he learned all the ins and outs of an energy assessment, how to maintain good client relationships, and how to manage multiple projects at once. This allowed him to eventually jump to a role in Chicago where he managed several programs over the years, primarily focusing on leading the Industrial Assessment Center. Patrick joined Michaels Energy in the fall of 2022.
Patrick received his Bachelor's Degree in Nuclear, Plasma, and Radiological Engineering with a minor in Physics from the University of Illinois Urbana-Champaign. One of his passions has always been weather and climate change, and a few years later Patrick enrolled and completed a Master's Degree in Atmospheric Science from the University of Illinois Urbana Champaign. Patrick sincerely believes that energy efficiency and climate change are linked closely together and looks to continue to expand his knowledge in both fields.
Patrick loves to travel with his family and explore the world in his free time. When at home he enjoys reading books, playing board games, playing ultimate frisbee, and enjoying long walks in the city and nature.
Growing up, I spent much of my time outdoors. Running, camping, biking and snowboarding ingrained in me an appreciation for the natural world. A brief study in environmental sciences led to a full-time pursuit in the built world of energy efficiency, where I felt I could make a more substantial impact.
About Nate

Nate joined the Michaels team in December 2022. As a part of the engineering team, he implements custom projects in the commercial sector for the northern region of Illinois.
Before Michaels, Nate spent 5 years as the technical lead for an energy efficiency program serving public housing and low-income customers. Early in his career, he served as the lead engineer in an Illinois-sponsored program providing energy savings products and technical guidance. To optimally address gaps in the state's energy efficiency potential, Nate conducted audits in the excess of 1800 public sector facilities. He has authored numerous ASHRAE level 2 reports and has extensive experience in building energy analysis and assessments.
A native of Chicago, Nate graduated from the University of Illinois Urbana-Champaign with a Bachelor of Science in Natural Resources and Environmental Sciences. He earned a Master of Energy Engineering from the University of Illinois Chicago.
Nate continues to spend as much time enjoying the outdoors and being active as he can. He loves to bike, camp, golf, and snowboard and enjoys walks with his wife and their pups.
I have long been fascinated with solar energy as a way to heat & power buildings with little purchased energy. Once so abundant, coal and gas are becoming costly to extract and burn cleanly. I'm convinced that well-known efficiency approaches and technologies will continue to be an important way to drive down the energy impact of our homes and workplaces.

About Chris
Chris joined the Michaels team in January 2007. He is an experienced engineer who manages the Industrial New Construction program within the Implementation Group. Those efforts include performing design assistance and energy simulations for commercial buildings and investment grade analysis of industrial process equipment opportunities for new industrial facilities. Specific tools used include automated DOE-2 simulations, Equest, OpenStudio, and numerous spreadsheet calculations. Chris has been certified by ASHRAE as a BEMP (Building Energy Modeling Professional) and is also a certified LEED professional that has served as energy modeler or facilitator for over a dozen LEED projects.
Chris graduated in 1985 from Marquette University with a Bachelor of Science degree in Mechanical Engineering. From there, he served as an engineer in the navy for five years, worked a couple years as a project engineer for a Pacific Valves, a couple more as technical support staff for WI Demand-Side Demonstrations, and then taught high school math and physics for ten years before coming to Michaels.
Chris has two children Samuel and Jane (and two cats Pebble and Petra). Some of Chris's favorite activities are watching movies, playing cards, enjoying the outdoors, or gardening.
Ever since I can remember I have felt a sense of connection to our natural world. Energy efficiency and sustainability are critical components to maintaining the beauty and habitability of our planet and I feel truly lucky to be a part of this industry.

About Vaughn
Vaughn grew up in California with two younger brothers and two science-nerd parents. His parents would routinely drag the family out into the woods to go backpacking, skiing, bike riding, and camping. This upbringing set him up for a lifetime of hugging trees.At the age of 17, Vaughn moved to Colorado to study Mechanical Engineering at the University of Colorado at Boulder. Upon graduating, he took a job in Denver working for an engineering consulting firm.There he gained exposure to many facets of the energy efficiency and sustainability world including energy modeling, commissioning, retro-commissioning, LEED consulting, and energy auditing.After 14 years in the industry, Vaughn accepted a position with Michaels in 2021 to focus his work within the existing building sector. Vaughn's current role includes working with utility programs providing retro-commissioning and energy auditing services. Vaughn lives in Boulder, CO where he is an avid outdoors man. He spends most of his free time outside rock climbing, mountain biking, fishing, or skiing. When he is not outdoors you can find him reading a science fiction novel or building model airplanes.
I remember the energy crises from a long time ago-back in the 1970's. Although we didn't run out of coal, oil, or natural gas as predicted, it inspired an interest in more sensibly using the energy we do use. Burning fuels comes with its own set of environmental problems, so it just makes sense to me that we use less. Working as an engineer to promote energy efficiency fulfills that desire to contribute in a meaningful way toward enhancing sustainability of energy use

About Chuck
Chuck joined Michaels Energy in 2008 and is currently a Senior Engineer in the Research and Evaluation Department. This work includes assessing the effectiveness of completed industrial, commercial, and institutional efficiency projects. The results are used to evaluate utility energy efficiency programs. When Chuck is not busy working on project evaluations, he conducts energy audits in commercial and industrial facilities to help owners discover affordable ways to save energy and money. He also performs engineering calculations used to determine incentives to be paid for implementing energy efficiency measures.
Chuck graduated from the University of Wisconsin-Madison with a Master of Science degree in Mechanical Engineering after receiving a Bachelor of Science degree in Mechanical Engineering from the same university. He is registered as a Professional Engineer in Wisconsin and Minnesota.
Chuck and his wife spend much of their spring and summer hours doing wildlife rehabilitation, taking in orphaned and injured wild mammals (e.g., raccoons, squirrels, etc.), taking care of them until they can be released back into the wild. He also does regular group workouts at a local fitness center and enjoys cycling. When he is not taking care of wildlife, he spends much of his time taking care of their garden and domestic animals.
About Miles

Miles joined the Michaels Energy team in 2022 with the goal of taking the skills, lessons, and his growing passion for creating positive change in the battle to improve the climate through engineering and local transformation. At Michaels, Miles is the lead engineer for the City of Denver's Multi-family and Commercial Electrification Program – a $43 million initiative to transform the way energy is used and distributed throughout the city.
Miles earned a Bachelor of Science degree in Mechanical Engineering from Iowa State University. He started his career in the energy industry nearly a decade ago, helping to lift utility DSM programs off the ground in the Midwest. With dreams of playing a part in the energy transformation that was sure to come, Miles worked remotely from his small net-zero farm in Decorah, IA. During this time, he also helped to organize a small non-profit organization that soon helped to transform the energy future of his community. Miles then moved to Golden, CO to become a Research Engineer at the National Renewable Energy Laboratory (NREL). At NREL, Miles led the Space Conditioning Technical Research Team and delivered millions of kWh savings through the Advanced Rooftop Unit Campaign. Miles then transitioned back to the private sector as a Technical Research Analyst with E Source. Miles later led the City of Golden in its Path to Net Zero Buildings initiative.
While the environment and helping to create a more sustainable future are the center focus in Miles' life, his wife, Kayla, and two children, Paxton and Summer, are likely the reason this passion only continues to grow. Both Miles and his wife work in roles that involve energy and sustainability, so these are daily topics around his dinner table. Miles enjoys camping, hiking, snowboarding, and really anything outdoors with his family and friends.
Working in industrial energy efficiency makes me feel like I am doing something worthwhile. I get to do my fair share for the environment while also helping keep manufacturing jobs in the US. Providing assistance in reducing energy use and costs helps make our customers more competitive.

About Mark

Mark joined the Micheals Energy team in 2022 as the Technical Lead for the Industrial SEM program. He brings many years of experience in industrial consulting and energy efficiency. He spent the last 9 years of his career as a Reviewing Engineer for Eversource Energy of Massachusetts. He earned an MS in Mechanical Engineering (Thermo/Fluids concentration) from the University of Massachusetts, Amherst through the Industrial Assessment Center. He is a DOE Qualified Specialist in steam, compressed air, pumping, and process heating systems.
In his spare time, Mark likes to read, fish, work out, and play golf.
Learning the best energy-efficient design practices and sustainable strategies have been a passion of mine since early in my career. Understanding the reasons why the status quo exists is the only way to carve a better path forward.

About Nick

Nick joined Michaels in 2022 after working as a Building Mechanical Design Consultant in the construction industry for twelve years. He specializes in building mechanical assessments, new work and renovation design, and building automation controls.
Nick graduated from the Case Western Reserve University in Cleveland, Ohio with a degree in mechanical engineering. From there, he stayed in the Northeast Ohio building construction industry for several years before transitioning into the high-performance building market of Portland, Oregon for a few years. Now his home is in Richmond, Virginia and he's loving it.
Outside of work you can typically find him with his fiancée, Cheyenne, and her son, Silas, playing in local parks, running outdoors, at the local gym, or on their next hiking adventure.
Working in energy efficiency is all about eliminating waste, and communicating the results of those efforts to your customers. And I get really excited about both.

About Aaron
After graduating from the University of Wisconsin in 2011 with a degree in mechanical engineering, Aaron started as a product development engineer with Modine Manufacturing Company. His role included product design and testing for large vehicular heat exchangers. In 2014, Aaron moved to Minneapolis and began his career at Michaels. He specializes in retro-commissioning, energy audits, custom technical analyses, and dabbles in program evaluation. Aaron has also been a part of several CARD-funded research studies with the state of Minnesota.
When he's not in the field scouring for energy savings, you can find Aaron at home attempting full puff pastry with his wife, arguing balls and strikes at a Twins game, or looking foolish during the sound round at pub trivia.
Energy conservation is arguably the single greatest and cleanest energy resource we have. The choice to focus on this field is an easy one for me. It allows me to utilize a technical skillset to benefit society in a positive, non-controversial way. I'm passionate about serving our clients and customers to enable them with the ability and knowledge to work towards an efficient future.

About Josh

Josh joined the Michaels team in August 2022. His primary focus is to serve SEM, energy audit, and retro-commissioning customers in Colorado. This includes data collection, performing energy analysis, conducting energy audits and retro-commissioning studies of commercial and industrial buildings, assisting customers with implementation issues and rebate applications, holding recurring check-in meetings, and conducting customer presentations.
Josh graduated from Rochester Institute of Technology with a degree in Mechanical Engineering Technology. He first worked as a Project Engineer in the HVAC industry. He then underwent a 3-year round-the-world solo bicycle tour over 5 continents. Upon return to the US, Josh decided to pivot his experience with engineering and HVAC towards building energy efficiency in order to continue his love of engineering while having a positive impact on energy usage and the environment.
Outside of work, you will often find him riding a bike (albeit shorter distances) around Colorado. You may also find him hiking, camping, snowboarding, or partaking in many of the other outdoor activities that Colorado has to offer.
I believe we are at the beginning of discovering new ways to extract energy from our environment (for instance, the ocean is full of rocket fuel). We just need to figure out how to liberate it efficiently.

About John

John joined Michaels Energy in 2022. Before joining Michaels, John successfully ran his own Energy Consulting company for 12 years, helping large building owners reduce their costs and go green. He graduated from the University of Dayton with a degree in Bioengineering and has since worked in the Building Construction and Energy Efficiency field for 42 years as a consulting engineer, contractor, and utility company executive.
John is a subject matter expert in all aspects of Energy Delivery and Demand Side Management with extensive knowledge of steam boiler systems, chilled water plants, large compressed air systems, and industrial refrigeration systems.
He is a grandfather 14 times over and a great-grandfather to a baby girl and a one-year-old boy. He and his wife are foster parents to two of their young grandchildren. When time allows, he is an inventor, artist, and musician and loves the outdoors.
Since taking a deeper look at alternative energies and how the climate is impacted by our current energy use, I've been hooked on being part of the solution to this world's energy challenge. In college, I committed to using my technical skills and talents to collaborate with like-minded thinkers and present solutions to today's energy challenges.
About Emmanuel

Emmanuel joined the Michaels team in October 2022. He brings his experience and expertise to the Implementation group in the Chicago area. His current work includes performing facility audits and providing recommendations for energy savings to all public schools in the ComEd territory.
Emmanuel graduated from Iowa State University with a Bachelor of Science in Mechanical Engineering. Before joining Michaels, he served as an Energy Engineer supporting ComEd and other utility programs in the Chicagoland area.
Outside of work, you can typically find him somewhere out in nature, hiking, working out, or playing basketball.
I grew up around artists and have always liked to fine-tune things: whether it's a guitar, an engine motor, or a pump controller. From an early age, I wanted to understand the world and how we interact with it. I'm also an avid kayak angler, climber, and gardener. It's not surprising that I ended up as a mechanical engineer and now work in energy efficiency, helping clients fine tune their energy usage and conserve our planet's valuable resources.
About Jonny

Jonny joined the Michaels team in January 2023 after working on large commercial buildings as a controls engineer for the past 8 years. Jonny brings extensive field experience to his role as a Senior Engineer in the Richmond, Virginia office.
A graduate of Virginia Commonwealth University, Jonny has a B.S. in mechanical engineering with a minor in physics. He is a machinist by trade, and has worked in automotive product design. At Michaels, Jonny works on the Dominion Energy rebate program, conducting energy audits, modeling building designs and helping clients find innovative ways to save energy.
When he's not working, Jonny is playing with his young sons Avery and Arthur, planning the next house renovation project with his wife, Bekah, and spending as much time as possible outdoors.
I chose Energy Efficiency as my profession nearly four decades ago. One of the challenges in making energy efficiency improvements is that it can be difficult to analyze, measure & track energy & cost savings to justify complicated energy efficiency projects. I have been a part of an Energy Efficiency team helping customers analyze, implement, measure & verify energy & cost savings since the beginning of my career.
About Rajan

Rajan graduated from the University of Calicut, India in 1979 with a degree in Mechanical Engineering, Though Rajan completed training in Marine Engineering immediately after graduation, he accepted a job with Indian Airlines in the maintenance department as an Aircraft Technician. Rajan migrated to the United States in 1981 after marriage and joined the University of Minnesota for MS in Mechanical Engineering. Rajan graduated from the University of Minnesota in 1983 with MS Mechanical Engineering with Mathematics minor. Rajan did various non-engineering jobs before joining State of Minnesota's Energy Conservation department in 1985 as Graduate Engineer 2. State of Minnesota promoted Rajan to Senior Engineer after passing Minnesota Professional Engineering exam and later to Principal Engineer. Rajan accepted the Technical Consultant job with Xcel Energy in 2007, later promoted as Senior Engineer and retired from Xcel on April 4, 2023. Rajan joined Michaels Energy on June 26, 2023, currently works on custom electric and natural gas projects.
Rajan enjoys spending time with wife, children & grandchildren.
When I enrolled at Purdue University, I initially declared an "undecided" major, which came with a class that explored various curriculum and career paths. This is where I found Environmental Engineering. Working to reduce our environmental impact has always resonated with me, starting in high school with badgering my family and those around me to recycle. After leaving college, I envisioned myself in a role where I could evaluate buildings and collaborate with clients to enhance their energy efficiency. I'm excited to now be doing just that with Michaels!
About Ashley

Ashley joined the Michaels team in July 2023. She is joining the engineering group to support the programs in Indiana. This includes data collection, energy analyses, energy audits, and retro-commissioning studies. Ashley graduated from Purdue University with a bachelor's degree in Environmental Engineering. Prior to Michaels she worked as a Controls Engineer and Project Manager bringing her skills and expertise from the controls and construction industry.
Outside of work, Ashley enjoys exploring new countries with her friends, kayaking on the river, and attending or playing concerts with her French horn.
To me, energy efficiency is a microcosm of engineering. Engineering simply means identifying a problem and finding its solution, i.e. problem-solving! Every day is different, every day offers new problems, and every problem needs a new solution. That's what makes this job so fun, and that's why efficiency is a fun challenge!

About Zack
Zack joined the Michaels team in the Fall of 2018. He is primarily an engineer for the Research and Evaluation team, but he plays the role of a traveling Swiss Army Knife for the company. Zack spends as much time in the field as he can (when allowed and not in a pandemic). A lot of his projects at Michaels are study-based and require a lot of hours in the field. So far, he has worked in Wisconsin, Colorado, Illinois, Minnesota, Michigan, Iowa, California, Washington, Oregon, Idaho, and Montana. And the list will continue to grow!
Before joining Michaels, Zack attended the University of Colorado in Boulder. He earned a bachelor's degree in Chemical and Biological Engineering and minors in Business Management and International Engineering. He worked from high school through college and beyond in three different ice rinks in Colorado, perfecting the art of ice-making on a Zamboni. Zack and his brother Alex helped run events for CU-Boulder athletics while they were attending school. From football and basketball to club hockey and lacrosse, no sport was untouched by the Thompson-Twins. Zack also spent a summer interning with the European Commission, based in Paris, France, studying efficient refrigeration technologies.
Zack loves to travel both for work and pleasure. He is most happy when exploring somewhere new and enjoys it even more in the company of his friends and family, or at least his twin brother Alex. His favorite hobbies include skiing, hunting, hiking, and watching the Packers. He keeps track of places he's traveled for fun, for work, and to ski!
I knew that I wanted to pursue a career that had a positive impact on the world. Michaels Energy provided the perfect opportunity to use my technical background towards creating a more sustainable future.

About Abbey
Abbey joined the Michaels Energy team as an Energy Efficiency Engineer in 2018 after graduating with a degree in Chemical Engineering from UW-Madison. Abbey is a member of our engineering team and focuses on delivering high impact energy efficiency programs for our clients.
She has worked on a variety of custom rebate analyses from both the implementation and evaluation side. She also has experience conducting research, collecting metered data, and working on studies.
When Abbeys not at work, she enjoys traveling, camping, and playing board games with friends and family.
Throughout my life, I have focused on achieving and maintaining efficiency. From calculating the MPG of the GMC Safari I drove in high school, to manually adjusting the dampers to only cool the areas that were necessary for my Tucson apartment. I am incredibly fortunate to work in a field where I can leverage my technical aptitude and interpersonal skills to recognize and deliver efficiency gains for our clients.
About Jonny

Michael joined Michaels Energy in February of 2023. He brings experience with Retro-Commissioning and BAS controls installation. This includes conducting facility surveys, customer relations, recommending improvements, and implementing energy savings measures. With the effort of not only saving energy but decreasing maintenance and increasing reliability and stability for the customer.
Michael graduated from the University of Illinois Chicago in 2015 with a Bachelor of Science in Electrical Engineering. Before joining Michaels Energy, he worked as an RCx analyst and Assistant Project Manager at Bernhard.
An avid adventurist, Michael spends much of his time outside of work with his wife, Sarah, and their two dogs camping, running, riding bikes, or skiing.
Being energy efficient provides benefits to all those involved. During my time in the automotive industry, decreasing energy consumption was viewed as a cost-saving by the company and a benefit to the utility. At Michaels Energy, I can provide the same services to a wider range of applications.

About Jesse

Jesse joined the Michaels Energy team in August 2022. He serves as an Engineer serving custom rebate customers in the Chicago area. This includes data collection, energy analysis, on-site metering, and utility rebate applications.
Jesse graduated from Iowa State University with a Bachelor of Science in Mechanical Engineering, including a minor in Physics and an E.I.T. certification. Prior to joining Michaels Energy, he worked as a manufacturing engineer, energy efficiency program engineer, and manufacturing engineering supervisor for a camshaft manufacturer for automotive companies. His work as an energy efficiency program engineer included both energy management and industrial energy efficiency.
In his free time, Jesse enjoys Olympic weightlifting, running, golfing, and traveling with his fiancé, Tillie. He has played the piano since a young age and is a collector of quality bourbons. He recently moved to Chicago from Champaign, Illinois, and is looking forward to all the great food the city has to offer.
I'm happy to say that I work in an industry where there are always problems to fix. If there weren't challenges, what would I do all day? The limitless opportunities of critical thinking and the immediate gratification of problem solving have allowed me to enjoy the work I do in an industry I love – saving energy!

About Colin Brennan
Colin joined the Michaels team in the Fall of 2019. He started on the Research and Evaluation team where he was involved in two studies in Michigan and California. Shortly after returning home from California, Colin took on a new role for the Programs team as the lead engineer for the Xcel Energy Information Systems (EIS) Program in Minnesota. In this program, Colin works directly with customers over a three-year period to implement energy-saving measures while also helping them build an energy team and tools to track and improve their energy usage. He is also involved in various recommissioning studies and product development for upcoming energy-saving equipment and controls.
After finding interests in chemistry during his freshman year of college, Colin pursued a bachelor's degree in Chemical Engineering at Iowa State University. During his time at Iowa State, Colin was heavily involved in Engineers for a Sustainable World where he served as the chapter president for three semesters. His main career interest was environmental or green engineering. At the career fair his freshman year, Colin discovered Michaels Energy and received an internship the following summer. He enjoyed it so much, he wanted to come back!
In his spare time, Colin enjoys playing his many instruments or traveling to new places and breweries. Every fall, you can find him down in Ames at Iowa State football games and the tailgating lots with his friends and family.
My undergraduate degree is in Mechanical Engineering, which offers a wide array of career opportunities. When I was trying to decide what I wanted to do with my life, the concept of renewable energy always took the spotlight and seemed so exciting. I thought that was the field where I could make the most positive impact on the environment. Once I learned more about the energy efficiency industry though, I realized that this is where I can have the most impact. The first step to making the world more sustainable is using less energy.
About Cassandra
Cassandra joined the Michaels team in June 2023. Cassandra works on a variety of programs in the Implementation group. These programs require energy audits and custom desk reviews. Cassandra graduated from Milwaukee School of Engineering with a Bachelor of Science in Mechanical Engineering and a minor in Physics. Upon graduation, she went directly into a graduate program at UW Madison where she received her Masters of Science in Mechanical Engineering. Her thesis explored fin designs for a 3D-printed dry-cooled heat exchanger.
Cassandra previously worked for Guidehouse on the Evaluation side of Energy Efficiency programs, mostly for Illinois utilities. In the year before joining Michaels Energy, Cassandra worked as a high school physics teacher in West Chicago, IL.
Outside of work, Cassandra spends most of her time with her husband, Austin, and her daughter, Elliott. One of her favorite activities is to go on family runs together.
I started my career in energy efficiency with a passion to educate and influence decision making to reduce carbon emissions and mitigate climate change. I'm fortunate to be working with stakeholders daily, with the opportunity to assemble innovative approaches to optimize high performance solutions for the next generation of the built environment.
About Kevin
Kevin joined Michaels Energy June 2023. He will be completing recommissioning studies and providing ongoing project implementation assistance for our utility clients in Minnesota.
Kevin graduated from the University of Wisconsin – Madison with a Bachelor of Arts degree in Geography and Environmental Studies – On Wisconsin! Prior to joining Michaels, Kevin was providing energy efficiency consulting to the small commercial sector while at Energy Smart in St. Paul, MN. Kevin proudly retains the credential of Certified Energy Manager (C.E.M.) from the Association of Energy Engineers.
Outside of work, Kevin enjoys spending time with his partner, Rebecca and their pup, Murphy. Kevin enjoys cooking by fire via pizza oven and smoker. You can otherwise find Kevin spending time camping, canoeing, and fishing along the way!
Since college, I had an enthusiasm for learning about energy. Thermodynamics, Heat Transfer, Fluid Dynamics those classes excited me! It drove me to pursue a career in energy and in particular helping others improve the efficiency of how they use their energy. I love to grow relationships with people and as an energy engineer, I'm blessed with the opportunity to do just that, while providing them insight on their energy efficiency.
About Cody
Cody joined the Michaels team in July 2023. He joins the Engineering team in Minneapolis, Minnesota to perform recommissioning studies and ASHRAE level 2 energy audits. Prior to Michaels Energy, Cody designed HVAC and plumbing systems for commercial and industrial buildings and performed commissioning on both new and existing buildings.
Cody graduated from Minnesota State University, Mankato with a Bachelor of Science in Mechanical Engineering and a minor in Business Administration. Cody has his Professional Engineer license for the state of Minnesota.
When Cody isn't exploring mechanical rooms, you can find him indoor rock climbing at Vertical Endeavors, biking around Minneapolis, learning new grooves on the drums, and making cocktails for friends.
I have always had a passion for building and creating new constructions, from Lego fortresses as a kid, to K'nex trebuchets during a competition for a Physics class in college. At the core of this, is my desire to understand the mechanisms by which systems function. In my professional career, I am determined to leverage this desire to reduce our society's effect on the environment and to create better standards within our community.
About Silas
Silas joined the Michaels team in July 2023. He leverages his experience in building energy modeling to support evaluation studies and research efforts for a variety of new construction programs in Minnesota and Virginia, and will be joining the Engineering team in Minneapolis, MN to perform energy audits and retro-commissioning studies throughout Iowa and Minnesota.
Silas graduated from Carleton College with a Bachelor of Arts in Physics. He moved to California where he spent most of his time supporting energy codes and standards development research. Prior to joining Michaels, Silas was an energy specialist for Willdan, supporting the program development and energy modeling for a utility funded energy design assistance program called CEDA.
Outside of work you can typically find him with his wife Jesse, cooking pizzas on their porch, hiking, traveling, or playing board games at a brewery!
As a kid, I always enjoyed figuring out how things work, so when I had the opportunity to work in the vast field of energy efficiency, I knew that I would have the privilege of having a career solving real problems that would make a positive impact in our world.

About Allyson
Allyson joined Michaels as an Associate Engineer in 2021 after earning her degree in Mechanical Engineering from Iowa State University. As part of the engineering team, she will be working on research and evaluation projects in the Pacific Northwest.
When Allyson is not working, she enjoys hiking, listening to music, going for walks, and watching movies. She also enjoys spending time with her family and friends.
Being efficient becomes second nature when you grow up in an environment with limited resources. Once you become aware of all the resources for human needs are limited, you want to do anything in your reach to fight that. One of the greatest threats to life today is the byproducts of energy production, and energy efficiency is the effective way to mitigate those adverse effects. Hence, I worked to get into the energy efficiency industry.

About Anvesh
Anvesh joined Michaels in July 2021 as an Associate Engineer. He graduated with a Bachelor's in Mechanical Engineering from Osmania University in India. He then went on to pursue a Master's in Energy Engineering from the University of Illinois at Chicago.
Anvesh's hobbies vary from time to time with no rhyme or reason. At this time, they include reading books that aren't super long and have a happy ending, playing tennis when it's not too hot out, and thinking of ways to annoy his mom.
My experience with the Engineers Without Borders Club at UW-Madison taught me many things. Above all, it taught me that when people work together, hugely important impacts can be made. While working on a potable water distribution project in Zapote, Guatemala, I gained even greater respect and understanding of the value of our world's resources. That experience fueled my passion for all things surrounding resource management and energy efficiency, and ultimately lead me to pursue a career at Michaels Energy.

About Sam
Sam joined the Michaels Energy Team in 2021 as an Associate Energy Engineer, primarily supporting the Research and Evaluation Department in baseline studies and impact evaluations.
Sam graduated from the University of Wisconsin – Madison in 2019 with a degree in Chemical Engineering. Before joining the Michaels team in 2021, Sam worked in commercial real estate as a Due Diligence Analyst.
In her free time, you can find Sam playing cards with her family, spending the weekend on the Mississippi, going on an evening hike, or having a long talk over a hot beverage with a friend.
I have always advocated for climate action. Improving energy efficiency and preventing pollution is one of the most challenging and important obstacles to overcome. Working for Michaels Energy gives me an opportunity to use my skills and knowledge toward preserving natural resources for future generations!

About Aman

Aman joined Michaels in March 2022 as an Associate Engineer. He graduated from Iowa State University with a Bachelor's degree in Mechanical Engineering. In this role, Aman will primarily work on research and evaluation projects in the Pacific Northwest.
Growing up in Kazakhstan, Aman has witnessed the slow but steady destruction of the Aral Sea, which was caused by water overuse. One of the largest lakes on the planet has slowly become a salty desert, and this sparked Aman's passion for preserving the planet's natural resources. He truly discovered his passion for energy efficiency during his Pollution Prevention internship with the Iowa DNR.
During his free time, Aman likes to stay active and artistic. His hobbies include bouldering, snowboarding, painting, and exploring the outdoors.
My goal has always been to live all aspects of my life according to my values, and that includes the work that I do. As someone who values sustainability, I am constantly mindful of my environmental footprint and how I can do better to be a steward of this Earth. Working in energy efficiency combines those values with my engineering background to create positive and lasting impacts in reducing our world's energy use.

About Jerald
Jerald joined the Michaels Energy team in July 2021 after graduating from the University of Minnesota, Twin Cities with a degree in Chemical Engineering. He is an Energy Efficiency Engineer working primarily on research projects in the Pacific Northwest.
Having moved to the US from Malaysia in 2017, Jerald quickly found that his passions lie in sustainability and working with people. He is interested in bringing practical and reliable engineering solutions to the world's environmental issues. Working at Michaels allows him to not only fight the world's growing energy demands but also collaborate alongside coworkers and clients alike to improve energy efficiency and lower energy consumption.
In Jerald's free time, you can find him tasting new food, brewing tea gong fu style, or being outdoors.
While I was pursuing my undergraduate degree, I found my passion for sustainability and efficiency. Nothing excites me more than figuring out how to do things as efficiently as possible, no matter how small. I knew that a career in energy efficiency will allow me to combine my passion with my engineering background to solve real issues that make an impact in sustaining our environment.

About Jumobi

Jumobi joined the Michaels Energy team in September 2022. She is a member of our engineering team and focuses on a custom rebate program in Chicago. This entails data collection, performing energy analysis and metering, writing technical reports, and assisting customers with implementation issues and utility rebate applications.
Jumobi graduated with a Master's degree in Chemical Engineering from the University of Minnesota Duluth, after obtaining her Bachelor's degree in the same field. Prior to joining Michaels, she worked on energy efficiency and water conservation projects at an industrial and commercial facility.
Outside of work, Jumobi spends time with her loved ones traveling and trying out different cuisines. She also enjoys crocheting gifts for friends and family.
I've always envisioned having a life that contributes to the betterment of everyone, so I find working in the energy efficiency and conservation field to be very fulfilling. Furthermore, my role at Michaels allows my natural skillset and training to be realized to the same end. I'm truly proud to be working in an industry that is part of a solution to one of the biggest challenges of our generation.

About Katie

Katie joined Michaels as an Associate Engineer in May 2023 after earning her degree in Chemical Engineering at the University of Michigan. In this role, she will primarily be focusing on the Public Schools Carbon Free Assessment program and custom rebate projects in the Chicago area.
Before Michaels, Katie had an internship at the University of Michigan where she researched the growth of polymer nanofibers using chemical vapor deposition.
In her free time, she enjoys traveling, reading, golf, tennis, and trying out new coffee shops. Katie also loves to spend time with friends and family.
I see the greatest lesson of life being to be the change you want to see in the world. Once I found science, environmental and energy efficiency opportunities seemed the most essential and rewarding. Now, my passion is using my skills in problem solving and critical thinking to deliver solutions to the decarbonization changes the world needs to see.

About Nacarri

Nacarri joined the Michaels team in April 2023 with 7+ years of engineering experience and is focused on delivering decarbonization plans to all public schools in the ComEd Territory in Chicago. This entails performing facility audits and providing recommendations for energy savings measures. Nacarri graduated from the Purdue University with a Bachelor of Science in Mechanical Engineering and Spelman College with a Bachelor of Science in Mathematics. In Nacarri's free time, you can find her behind a camera, on an airplane to the next city or country on her list, or being outdoors with family and friends.
Throughout my project teams in school, I always found myself gravitating towards the energy aspect. By my senior year of college, I had really built a liking to performing all types of energy analyses and trying to squeeze every bit of performance out of our design. After stumbling across energy engineering and eventually Michaels, I knew it'd be a perfect fit.
About Adler

Adler joined Michaels Energy in June 2023 after graduating from the University of Colorado Boulder with a Bachelor of Science in Chemical and Biological Engineering. While in Boulder, he also earned minors in Business and Biomedical Engineering.
As an Associate Engineer in the Chicago office, Adler is focused on serving the standard and custom rebate teams, along with the ComEd Schools Carbon-Free Assessment Program. This involves data collection, performing energy analyses, on-site metering, conducting decarbonization audits, writing technical reports, and assisting customers with implementation issues and rebate applications.
Outside of work, Adler loves everything about sports. Although he's no longer skiing the Rockies, Adler enjoys playing soccer, running, and lifting weights. He's always got some kind of sporting event on at his house whether its soccer, basketball, or formula 1 racing. Lastly, Adler can't live without music. He plays guitar and just recently started learning piano.
"The scientist does not aim at an immediate result… our work is like that of the planter – for the future. Our duty is to lay the foundation for those who are to come and point the way." –Nikola Tesla
This quote from Tesla rings invariably true—especially in the energy industry. The climate crisis that I and Michaels Energy battle is the single greatest challenge faced by humankind. Accordingly, this is not a problem to be solved overnight, and most certainly not by a single individual. Working toward a more sustainable society is an iterative process involving the best and brightest for decades to come. We work toward this goal knowing that we may never fully enjoy the fruit of our labor, but we continue forward knowing that we are producing a brighter future for us all.
I have always wanted to be a member of—and a leader in—this fight for a better tomorrow. When thinking of what I wanted from a career, I had to look no further than the energy industry to utilize my technical prowess, interpersonal skills, and imaginative thinking to their fullest extent. The job satisfaction that comes with this position is unrivaled, so to do it at a wonderful company like Michaels was an absolute no-brainer!
About Jared

Jared graduated from the University of New Hampshire (UNH) with a B.S. in Chemical Engineering in May of 2023. While at UNH, he made lifelong friends with whom he helped to form the UNH Energy Club (UNHEC) which seeks to connect students to the energy industry. He looks forward to bringing his passion for unity and progress to Michaels and his clients!
Jared joined Michaels in June of 2023 as an Associate Engineer with the Research and Evaluation team. He has earned the informal title of "Road Warrior," visiting Commercial and Industrial (C&I) facilities coast-to-coast as needed for projects. As his first full-time career out of college, Jared is incredibly excited to begin his professional life at Michaels.
When out-of-office, you can find Jared exploring his new home state of Maryland with his partner Katie, visiting his family in Boston, traveling to new places, trying out new recipes, working out, gaming, or modifying his Dodge Dart.
Everything can be made more efficient: a building, a specific system, people's habits, etc. Everything has its own unique differences though, too: a different purpose, location, structure. There's no silver bullet for making the most energy efficient buildings. Having the chance to learn and use each tool, each step in creating the best outcome for a diverse community of clients and customers excites me to be part of this industry.
About Sylas

Sylas joined the Michaels team in July 2023. His primary focus is to support the retro-commissioning clients in the Carolinas. This includes data collection, energy analysis, energy audits, and retro-commissioning studies of commercial and industrial buildings in the area.
Sylas grew up in Viroqua, WI and attended the University of Wisconsin-Stout. After graduating with a B.S. in Mechanical Engineering in 2019, he worked for Daikin Applied Americas as a development engineer to redesign their commercial rooftop units to be more efficient and eco-friendlier. In 2022, Sylas spent a quick year in grad school at the University of Tennessee-Knoxville and Oak Ridge National Laboratory.
Outside of work, Sylas is searching for the perfect cast while fishing, mainly for musky or trout. He also enjoys kayaking, camping, hiking, and cooking with his partner Jordan.
Sustainability is my passion, and nothing can be truly sustainable without satisfying social, economic, and environmental needs. Harvesting and utilizing energy is an integral and important part of modern society. While energy demand continues to increase to keep up with advancing technology and quality of life, the consequences of our energy consumption have taken an extreme toll on this planet. I believe that an improvement to energy utilization is crucial to the continued growth of society and global well-being, which is why I have chosen to work in this field.
About Regan

Regan joined Michaels in August of 2023. She graduated from the University of Colorado Boulder in May 2023 summa cum laude with a Bachelor of Science in Environmental Engineering and a focus in Energy Conversion. She previously interned, continuing to full-time, in the renewables field as a Site Design Engineer for wind and solar farms.
Regan is originally from North Carolina, and found herself in Colorado when she accepted a position as a professional dancer with the Colorado Ballet in 2013. Regan was always fascinated by the technique of ballet as well as the focus and dedication that it requires. After her retirement from the Ballet, she wanted to work on something equally as challenging.
In her free time, Regan enjoys dabbling in new hobbies. Currently, she is trying out yoga, roller-blading, and learning German. She is also always down for a good Karaoke night.
I have always been inspired by role models and I believe more in inspiration than motivation. I always wanted to work in the field of energy efficiency, and I was looking for a platform where I could utilize my knowledge and passion for sustainability. The moment I read about Michaels, I knew I would be a great fit. As Ironman once said in one of his comics "It's not about what you do, it's about how you do it." I believe the work Michaels is doing is inspirational.
About Nitish

Nitish joined Michaels in August 2023. He is working in Chicago and his role is primarily focused on energy efficiency programs. Nitish earned his Bachelor's degree in Mechanical Engineering in India and then he worked as a Service Engineer in a heat pump manufacturing company. He gained a good initial experience and he always wanted to learn more. He earned a Master of Science in Mechanical Engineering at Western Michigan University and while doing that he also worked as a teacher at the university to teach Math and Science (especially chemistry and Physics) to middle and high school students.
Nitish likes to watch science-fiction movies and anime in his free time. He also loves an occasional hiking, motorbike riding. He loves to talk about Christopher Nolan's movies, Marvel, cricket and tennis.
As I was training to be an engineer, I knew I wanted to pursue a career reducing drivers of climate change. Optimizing energy usage is one major avenue to achieve net-zero carbon conditions. Additionally, this pathway allows for collaboration between engineers and clients to achieve their ideal results of reduced environmental impact.
About Claire

Claire became an associate engineer for Michaels Energy in September 2023. Her role includes assisting with Electrification Feasibility Report (EFRs) reviews to determine if gas systems could be electrified and achieve cost parity. She supports the team with recording new requirements for the program as well as coordinating with contractors to assist with the transition to electrified systems.
Claire graduated from the University of Colorado Boulder with her B.S. (Magna Cum Laude) in 2022 in Mechanical Engineering and then received her M.S. degree in Mechanical Engineering the following year. Her thesis was based within the field of microfluidics in thermal management systems. Claire spent much of her time at university advocating/volunteering for STEM education in underserved communities. She is passionate about global equity which she has studied through her research in desertification and infrastructure advancements in the global south.
After work, Claire spends time with her family and boyfriend on hikes, watching some good movies as well as reading for her book club.
I love the position I'm in now because I get to reward utility customers for making great energy efficiency decisions while also learning about ways I can improve my home and better educate my friends and family on the latest energy efficient ideas and products that come onto the market.

About Jason
I stumbled into the world of energy efficiency while working for a large utility company in 2010. They needed somebody from the department that I was working in to take a temporary assignment in the rebate processing and energy efficiency programs department. What started as temporary quickly became the next 10 years of my life. It was in 2013 that I continued the same journey; only for Michaels Energy. I'm currently the Rebate Processing Manager.
My team assists utility customers with any questions they may have regarding available rebates and programs that they may be eligible for. We provide this service via amazing customer service on the phone and via email. Prior to working in energy efficiency I spent most of my life in a call center supervising teams that took calls for everything from motorcycle parts to flowers and candy.
I have a teenage daughter who graduates in a few months and a teenage son that will be starting high school next year. I've been married for what will be nine years this coming October. We currently have three dogs, a cat and a gecko that we're all entertained by. I love watching football and boxing. Fantasy Football consumes me during the NFL season. Travelling to Arizona is probably my favorite thing to do– I absolutely love it down there. Hiking in the mountains, never cold, always dusty and I have some really great friends that live there. Go Hawkeyes! Go 49ers!
My grandfather always said, "If you are going to do something, do it well." He had the hardest work ethic I ever saw and after spending many summers with him growing up, some of it rubbed off. To me, efficiency is the same, it's a constant search for how to be better, how to do things better, and to leave things better than you found them. It's satisfying to be able to help others improve things and do just that.

About Carrie
Carrie has more than a decade of customer service experience and joined Michaels Energy in 2014. Her responsibilities include assisting energy efficiency program customers in our call center, as well as processing and filing claims. Carrie is our go-to for creating and maintaining the Rebate Processing Center documentation and SOPs. Her skills have been utilized on programs for Evergreen Economics, Consumers Energy, and others.
Carrie graduated from Loras College in Dubuque, Iowa, with a Bachelor of Art's degree in English Literature and Creative Writing. She holds Microsoft certifications in Excel, Outlook, and Word.
Outside of work, Carrie can usually be found cooking for her husband and friends or trying to keep up with their rescue Border Collie mix. She also enjoys reading a good book or gaming.
We need to conserve energy to preserve a future for our children.

About Dawn
Dawn joined Michaels Energy in 2013 as a Rebate Processor for the Alliant Energy program. This entails processing incoming rebates on eligible items installed, and answering incoming phone calls on the rebate programs offered at Michaels.
Before joining Michaels Energy, Dawn worked as a Customer Service Representative for Alliant Energy for 5 years.
Outside of work, Dawn loves spending time with her husband, Josh, daughters MacKenzie and Izabelle, her three grandchildren Alexis, Cayden, and Kayleigh, and two Boxer puppies Iris Violet and Ivy Rose. Dawn and Josh love playing a Belgium sport called Rolle Bolle and traveling to different countries.
I have always had this idea that I could save the world. I learned fast that this was not possible alone, but I've learned that there are many things I can do to help. Being more energy efficient and wasting less is very important to me and my family; working at Michael's and helping our customers save energy and money is so rewarding for me.

About Kelly
Kelly joined Michael's Energy in 2017 as a Customer Service Representative. She started as a temp with duties including rebate processing and taking incoming calls from customers with questions about claims and rebates. With the desire to come on full time and continue working in energy efficiency, she joined the Michaels team full time in 2021.
When she's not at work, Kelly enjoys spending time with her family. She has four children and they love to spend time outdoors. Camping, fishing, and visiting water and amusement parks are just a few of their favorite things to do. She has a dog named Nino and two cats, Sassy and King.
I believe in always providing a positive attitude and using my skills to effectively fill passion for excellence.

About Valerie
Valerie joined Michael's Energy in 2014 as a Customer Service Representative. Her main responsibilities include gathering and organizing Alliant Energy rebate claim requests, managing processing of requests, and assisting customers with rebate questions and payments. She also provides technical and program support to help our team when needed.
Valerie calls herself a home body now that she has two dogs, two cats, and a roommate in her basement. She enjoys being outdoors, hiking, gardening, kayaking, and taking motorcycle rides. She also enjoys watching wrestling and football.
Energy efficiency was initially 'just a job' when I started. As time went on, I became more educated on the subject and evolved alongside the industry; personally experiencing the many benefits energy efficiency provides.

About Michele
Michele joined the Michaels Energy team in 2013. It was at this time that Michaels took over the Energy Efficiency Rebate Program for Alliant Energy, where Michele was working as a Customer Service Representative.
In her current role, Michele processes rebates, assists customers with rebate questions and concerns, and helps out with the appliance recycling program. She has experience working with a variety of energy management projects, from new home construction, commercial and residential lighting, geothermal, and commercial insultation. Michele is also a go-to for new hire training.
Outside of work, Michele is all about sports! Whether she's attending sporting events for her nieces and nephews or watching the Hawkeyes and Cowboys on TV, she is always surrounded by sports action.
I'm dedicated to energy efficiency because I want to leave behind a better place for my child and their children to live and thrive. Reducing my carbon footprint, teaching my child to be environmentally responsible, and helping others to do the same is very important to me.
About Melanie

Melanie started working for Michael's Energy in 2022 as a Customer Support Representative. In this role, Melanie uses some of her top strengths every day: empathy, patience, and discipline.
Melanie is a talented bilingual professional (Spanish and English) who was raised in Puerto Rico until the age of 18. After moving to North Dakota, she discovered her love for helping people. For the next 7+ years, she took on various customer service roles to use her talents and passion.
After graduating high school, Melanie put her college education on hold to pursue opportunities in the United States. As a driven and motivated individual, she knows that she will continue her educational dreams in the near future.
Melanie's biggest hobby is doing educational and fun activities with her young daughter.
A strong corporate commitment to environmental responsibility is very important to us at Michaels Energy. That commitment was at the forefront of our process to convert the second floor of a 100-year-old department store into the current home of Michaels Energy. As a result, our office achieved Gold certification under the LEED for Commercial Interiors (CI) rating system.
Downtown Location
with access to public transportation
Bicycle Storage
and a shower/changing room
Views to the Outdoors
for more than 95% of the occupants
Nearly a 50% Reduction
in potable water use
Optimized HVAC
including day and night lighting
Reuse of Office Furniture
reducing excess landfill waste
Green Cleaning Policy
natural non-toxic ingredients
Composting and Recycling
nearly all post-consumer office waste